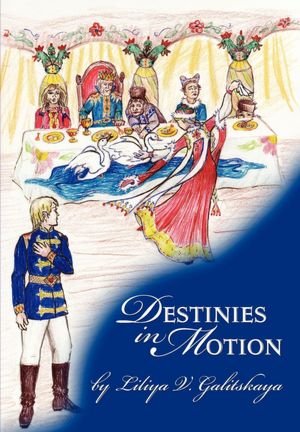 Destinies in Motion is an epic adventure fantasy tale written by author and illustrator Liliya V Galitskaya, a Russian seamstress living in Canada.
The story introduces the Vladners, a family whose everyday lives are suddenly changed by events that seem beyond their control. Lana, the daughter of the family decides to take on the quest to discover the truth. But her pet cat Tac knows everything about the mystery and starts to lead her on her journey, and once they begin their quest, transforms himself into a hero.
Reminiscent of the film Labyrinth, Lana must find her baby brother in another magical world, and ultimately save herself.
I wouldn't say Galitskaya is the best illustrator in the world, but her drawings do convey the message and have a folksy charm reminiscent of Russian Lubok illustrations, and this is a spirit in which the writer has invested in the narrative also.
There is nothing terribly original in the thematics of this story; it has all the usual elements of a quest tale. If you are a fan of this genre, it may resonate. It occurred to me whilst reading that while it seems a very long story for a child reading alone, and it does become slightly difficult to retain all the plot points and details at times, but the illustrations actually lend this work to a bedtime read to a child from a parent or carer, and could easily contribute to a fantastic dream and themes of growing up for discussion with those aged maybe ten and above: it also has merit for the adult reader who enjoys fantasy fiction of this sort.
Younger readers will also enjoy the camaraderie of the animals such as Tac and the characters so carefully described, which again, stand out as a unique point in this work. Lana, the main character, could be any girl reading the book: she is not always perfect or brave or kind. This resonates and makes her a round character leading the story.
Written in a delicately descriptive way with intricate visual descriptions of all of the fantastic events, places and creatures that Lana meets along the way, the finery and finesse elevates the classic elements of quest, creatures, young misfit hero and talking animals to an entertaining and lively read. The creatures are slightly more darstardly than most; I wonder if this too is a glimpse of the more macabre Russian fairy story Galitskaya is familiar with.
Galitskaya should be commended. This book was clearly a great undertaking, and to illustrate and self –publish also must have taken a soul's worth of energy; in fact what makes it so likeable is the writer's flair for minutiae: it is, as if in her career as a seamstress, she has stitched this story for the reader in fine needlepoint using the most fairy-thin threads, shimmering on the page.
"Cool air and soft darkness hugged the overheated village of Pokerweild.  At that moment the summer night was clear of clouds, allowing onlookers to enjoy the show of stars scattered on its dark blue canvas. From where they sat on the hill, the two saw the bright and low-hanging moon illuminate the open spaces of their village, leaving the rest in mysterious shadows. " is a whimsical opening for a tale which weaves exquisite descriptions throughout.
Destinies in Motion is worth a look just to see what is achievable with a little passion and energy. A book borne of a lot of heart, which can be rare even in self-publishing, it also achieves the mission even fewer do: to convey the writer's own world of imagination onto paper and then into the imaginations of others successfully and with a sense of wonder and faith in all things magical and therefore possible in a book.
Links