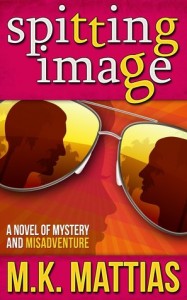 In the novel Spitting Image, by M. K. Mattias, the main character can't stay out of trouble. Simone Darling is terrified of flying. After her father plunged to his death when he fell out of a helicopter, Simone never wants to step foot onto a plane. Also, she's afraid of America, especially Miami. Her fear of Miami is extreme. Simone, who lives in Sydney, Australia, never wants to visit her mom in Florida. Never.
That is until Simone's stepfather offers to pay her $80,000 to restore some of his paintings. She's an art restorer. At the time, she isn't making much money, her relationship with her boyfriend, Kevin, is on the rocks, and she needs to make a change in her life. Could a visit to America reignite their love and fill up her bank account?
Kevin, an accountant, wants to make the journey to the land of vice and crime, and he isn't scared of Miami. Turns out he of all people should be. Once Simone and Kevin arrive in her mother's apartment in Miami things start to go wrong. Very wrong. First, Kevin finds out that Simone is armed and dangerous. Somehow she's managed to bring a blowpipe with darts (even though she doesn't have poison for the darts), a stun gun, a fully illustrated self-defense book, and a small pistol that was placed in her bag by a man evading the police at the airport. Unfortunately, she doesn't know how to use any of her weapons correctly. On her first day, she ends up shooting a hole through a Georgia O'Keefe painting.
Not the best start to her vacation. Then she wanders to her mother's fridge and discovers a dead man in the freezer. The dead man looks just like Kevin. Simone doesn't know what her mother's husband, Curtis, does for a living. He doesn't talk much. Simone can only remember having one conversation with him, which incidentally was about how Curtis always carries a gun with him. Now she finds a dead man in the freezer. Is Curtis a drug smuggler? Is her mom a gangster's moll? And is Kevin in danger?
After spending one night in Miami, Kevin and Simone head to Key West to stay with her mom and Curtis. Hopefully she will get answers. But will she like what she hears?
This is the type of novel that makes you forget logic. If you think too hard about the plot, it will unravel. Don't do that. If you are able to immerse yourself into this crazy story, it's a hilarious ride. On several occasions I found myself laughing out loud. Simone attempts to do the right things all of the time, yet her intentions always go wrong. Poor Kevin turns out to be her victim each and every time. If she isn't accidentally using her stun gun on him, she's kicking him in the crotch, or almost shooting him. The trip to save their relationship is pushing them to the edge. Will Kevin leave American soil or be buried in it?
M. K. Mattias is a writer who isn't afraid to dive into the absurd to make the reader laugh. At times the situations are a little over the top, but they still work. If Mattias writes another novel featuring Simone I wouldn't hesitate to buy it. Her character is lovable, funny, dangerous, and genuine. I give her novel 4.5 stars out of 5.
Links