I want to tell you about something that happened to me a couple of months ago. After spending most of 2012 working on the edits of my second novel and putting off multiple opportunities to visit family in the process, the prospect of killing two birds with one stone—visiting family and promoting the book—seemed like a good idea. Near the end of October, my wife and I packed up the car with our suitcases and a huge box of books. We hit the road.
In the weeks leading up to our departure, I did what any other author is supposed to do: I made calls, lined up some venues for readings, and sent out a press release to several regional newspapers. The Corbin News Journal picked up the release, running it a few days before the first event at the Corbin Public Library that Friday. My serious, scowling face was immortalized in print. I found out about the article's publication while sitting outside a rest area just across the Kentucky state line. Cool, I thought. I put my phone back into my pocket, got back in the car, and went on my way.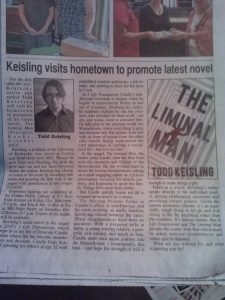 That evening, my parents treated us to dinner. We went to Dave's Steakhouse, just off I-75 in Corbin. About twenty minutes into our meal, that "something" I mentioned above began to happen. My mother was the first to notice the gentleman at the table behind us. He was reading the latest issue of the News Journal. Sure enough, he was reading the article—my article, about my book and about my mini-tour—and then my mother opened her mouth to say, "That's my son! He's right here."
Shit.
After spending most of the year finalizing a 300-page manuscript and brainstorming ways to market the book, I'd failed to think of the simplest side-effect: the loss of my anonymity. I'm an introvert, the sort of guy who goes out of his way to avoid people. I can talk to you as long as there's a wall of text between us, but if you put me near people, I clam up and die a little on the inside. There's always been a part of me that's embraced anonymity, and the gravity of my mistake hit me in that moment. When the fellow at the next table looked at me, looked back at the paper, looked at me again, and said, "Hey, that's you," I realized I couldn't be just a name anymore. I had to be a face, too.
He proceeded to get up from the table and tell a nearby group of waitresses, who then informed the manager. Before long, there was a group of people around our table. I was shaking hands and talking about my influences, about Ray Bradbury and Dean Koontz and Stephen King. The whole evening was very surreal, and that's probably a good way to describe the rest of our visit. There were decent turnouts at both signing venues, I sold about 90% of the books I'd brought for the tour, and a great time was had by everyone involved.
Everywhere we went that weekend, I was "the book guy." Whenever I ventured out into public, I was met with a lot of knowing glances and stares. People recognized me even though they didn't know me. I wrestled with that notion for the duration of the visit. My reason for launching the book in my hometown was to increase awareness on a local level, applying the indie mantra of "build a brand" outside the bounds of the internet. Starting in a small town where book signings and author visits aren't very common seemed like a good idea and a good way to get some attention. In retrospect, I guess I didn't expect it to actually work. I didn't expect people to care, which means I didn't count on what sort of attention I'd get, and I certainly didn't plan on how that attention might make me feel.
I realize everything preceding this paragraph sounds like bellyaching, and I assure you it isn't. I recognize that what I experienced is what every writer dreams about. A part of me has always wanted that sort of identity and recognition. After all, if an indie author could have any sort of enemy, it would be anonymity itself.
I've struggled over the last several years, slowly erasing that comfortable anonymity and working to spread awareness of my work in any way I can, only to be met with little interest and stagnating sales. I think I expected this tour in my hometown to fail based on my previous efforts, so I wasn't prepared for the pendulum to swing in the opposite direction this time.
Now I find I'm at odds with myself. I can be just a name, existing strictly as words on paper or screen, content with locking myself away and writing without caring how the work survives beyond its completion; or I can be a face, becoming a person behind the name, meeting people, shaking their hands, standing up in front of crowds to talk about something I've created. I can stagnate, or I can choose to be known.
My goal for 2013 is to combine these two halves into a single whole. My first step in doing so is writing this post for SPR. This essay will serve as a kick-off for a 16-day blog tour in support of my second novel, THE LIMINAL MAN. The book is the second in a planned horror series I call the Monochrome Trilogy, which tells a story about a man in search of purpose and identity. If you're interested in knowing more about my work, I hope you'll consider following me along this "blog hop." A schedule of tour dates will follow at the end of this post. I'm also giving away a grand prize package of goodies that includes signed hardcovers of my novels. A contest widget will also follow.
My name is Todd Keisling. I'm a writer and I'm an author. I'm a person trying to do what he loves. It's a pleasure to meet you.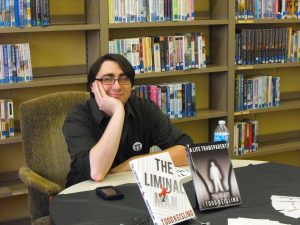 TLM Blog Tour Dates:
1/29/2013 Self-Publishing Review – Guest Post + Tour Kickoff
1/30/2013 Matthew Berkshier – Interview
1/31/2013 Merissa Tse/1889 Labs – Interview
2/01/2013 Anthony Rapino – Sample Chapter
2/02/2013 TK.com Special Post – The Music Behind TLM
2/04/2013 Kristen Tsetsi – Interview/Sample Chapter
2/05/2013 Mary Rajotte / Bloody Bookish – Interview / Review
2/06/2013 Tom Lichtenberg – Interview / Review
2/07/2013 R.J. Keller – Interview w/ Dr. Sparrow
2/08/2013 Elizabeth Arroyo – Review
2/09/2013 TK.com Special Post – Live Broadcast: Reading + Q&A
2/11/2013 Roy Pickering – Interview
2/12/2013 Dorothy Distefano – Interview w/ Donovan Candle
2/13/2013 Phill English /Toothsoup – Review
2/14/2013 Astrid Cruz – Guest Post: On Being Donovan Candle
2/15/2013 TK.com Special Post – Tour Recap