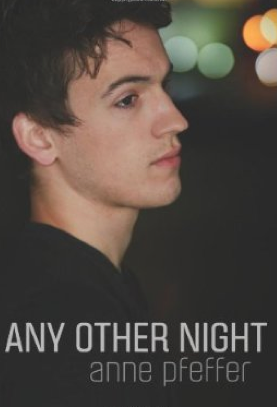 Any Other Night is a young adult fiction centered around Ryan Mills, a sixteen year old boy who, on any other night, would have been there for his best friend Michael and driven him to the longed – for Emily's Sweet Sixteen party at the Breakers Club. But that night is different – he wants to get there early to woo birthday girl Emily, resulting in a car crash in which Michael dies.
Ryan feels very guilty about the death of his friend, especially when he discovers Michael had a secret – one that Ryan feels he must now be responsible for, a secret that will mean he has to grow up fast.
The book is well crafted – author Pfeffer can write. Her characters are well rounded, with emotion and clarity of motivation. True to life, when Ryan thinks he may have a chance with Emily by arriving early, he leaves best friend Michael to hitch a lift with trashed friend Chase.
Ryan's parents, rich and super successful film industry folk (his dad is a famous film director), worry about the linen at their party more than his feelings, and the fact he owns a very expensive car at such a young age is a clever symbol for this lack of attention and typically the house help Rosaria seem to parent him and his cute and loving sisters instead.
The family problems and complicated set up left to him by Michael combined with the back stories make this a little more filled out than most YA fiction, and POVs are used to great effect here. Emily is the kind of girl a sixteen year old boy might go for: difficult, pretty, charming and quite obstinate and histrionic; she makes Ryan work to be with her in a way a more mature woman would not, which maybe to me as an older female reader was not endearing, but it was a completely recognizable situation as Ryan works hard to get it right.
The only criticism is that maybe a few more pages would have fleshed out the ending, and brought some resolution to the plot a little less abruptly, but maybe because the characters are well written I just felt that they hadn't been fully resolved.
Sometimes maybe the grief and anguish are set aside too easily, but then I wonder if this is a symptom of a teenage emotional system deliberately used here to illustrate Ryan's character – he is only sixteen, after all, dealing with hugely adult issues.
Overall, he's a readable character and keeps the sometimes complex story glued, and Michael, despite being dead for most of the story, is a deep and finished voice in the book and the reader will understand why Ryan misses him so much, and in turn, takes on his problems in such a committed way; even if those around him don't understand, the reader will.
Formerly "Loving Emily," this newly titled work should win YA fans across the board and her characters are thankfully different enough to stand out and gain attention in a market that demands originality.
Links