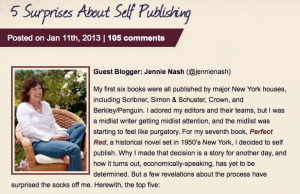 A good post and discussion at Rachelle Gardner's blog: 5 Surprises About Self-Publishing. This leaps out:
4. I overestimated my ability to sell books. I have lists of bookstores at which I've done appearances, book clubs who have hosted me, readers who have loved my work and bloggers who have reviewed my books. I didn't think I had to build a platform. I thought that with a few flicks of the mouse, I'd quickly sell thousands of books and build a buzz that would carry me to even greater sales. It didn't happen, so now I'm out doing what every writer has to do, which is figuring out how to connect with readers – only I'm doing it with a lot more humility.
She expands in a comment:
Yes, I did have significant sales and marketing experience before I self published. I was very involved in the marketing of my previous six books. I engineered a special sale of 100,000 copies of my breast cancer memoir to Ford Motor Company, did a really cool cross promotion with Benjamin Moore paints when my first novel came out, and have developed several successful book blog tours and marketing campaigns for some of my writing clients. Until very recently, I would have believed that I was very well qualified to market a book — but I know better now. I know that I still have a lot to learn.

What's fascinating to me is that no one can really tell why one book becomes a hit while another equally good book languishes with no readers. It's always been something of a mystery to everyone in the industry, and that mystery is acceptable when a publisher has 200 books on a list. Surely a few of them will find a big readership. But when an author has just one new book and she's the publisher? She can't accept mystery. She has to know why that book might sell, and to whom it might sell, and she has to know exactly how to reach them. If she doesn't have viable answers, she needs to hire someone who does.
Self-publishers have had it easy for a little while, but there is some evidence now that Amazon is not giving KDP books the same attention as books from traditional publishers. A year ago, many books were self-marketing just by virtue of being on Amazon. Free promotions had a huge impact, and the $.99 model made quick sellers out of a lot of books. Then the bottom fell out – it turned out many of these writers (probably more than we know) were gaming the system with fake reviews. Amazon is now deleting reviews and perhaps shifted their whole algorithm so that reviews aren't as important as they once were. They can be certain that a traditionally published book will be vetted in some way, and they'll make more money off a $12.99 ebook bestseller than 100 $.99 books.
This is all conjecture, by the way – Amazon, like Google, is a mystery. Amazon still has an incentive to push as many people it can into the KDP program, and try to make self-publishers use KDP exclusively via KDP Select. But the gold rush may be leveling out. As with all gold rushes, a huge influx of people descended on the marketplace, increasing competition. There will always be major self-publishing successes, and a greater share of writers will find success than a non-ebook world, but just as self-publishing is increasing legitimacy there also may be an increasing need for the support of a traditional publisher.
For someone who's sold 100,000+ books to be having trouble shows how self-publishing can be an uphill climb…until it isn't and a book magically takes off.