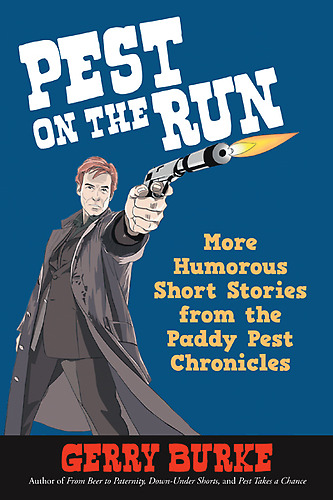 Spoofs are a serious business in literature, particularly when murder is involved. Pulling off a send-up of hard-boiled detective and spy novels is like singing badly on purpose –  it ain't as easy as it looks.
This volume of fifteen short stories, the third in a related series by Australian writer Gerry Burke, provides the reader with everything the crime spoof genre has to offer. Burke's writing style is terse, the read is quick and no one is bothered by any pesky Oxford commas in these fifteen short stories.
Our narrator is Patrick Pesticide, aka Paddy Pest, a self-referenced 'discount detective' with a sidekick named Stormy Weathers and who sometimes uses the disguise name of Maxwell Smart. I did say it was spoof.
The story titles invite and intrigue, for example, "From a Jack to a Queen," about the murder of a mercurial madam. Burke knows his literary devices, with one or two alliterations per story, and his vocabulary level shows respect for the reader. The action scenes, dialogue, and exposition are nicely balanced, with our narrator occasionally filling us in so as not to drag each tale on too terribly long.
World-wide locales give special meaning to the "on the Run" portion of this collection's title. Pest's crime-solving adventures take us to Melbourne, Mt. Kilimanjaro, London, Hong Kong, Toledo, Budapest, aboard an expedition ship sailing open waters off the coast of New Zealand, Manhattan, and Papua, New Guinea, to name a few. In addition to enjoying the general spoofiness of it all, hopping around these exotic locales is one of my favorite things about this book.
Political incorrectness abounds and sexual escapades frequent these tales (such indelicacies are part and parcel of classic noir detective novels), and there's plenty of slapstick: "It was a shame that it all went by so quickly, but that's what you get with bullet trains" (from "The Killer from Manila"). The stories are gently accented by an occasional cartoon drawing and indeed the characters do come off as cartoonish. One character named Hu Tai Shu is homage to the waiter named Won Jin Sling in Neil Simon's The Cheap Detective.
As I said before, spoofs are serious business, but so is murder, and even in a spoof, real crimes do take place. Fortunately, our narrator seems genuine in his quest to apprehend bad guys, which felt important to me as a reader.
I suspect one would not have to have read all manner of crime and detective fiction of yore to appreciate Pest's adventures as presented in these short stories. So many spoofs have appeared in film and television (Pink Panther, Get Smart, et al.) that the book can be enjoyed for what it is. If on the other hand you are familiar with the crime noir genre, you'll appreciate the references Burke sneaks in.
There are no drawbacks to Pest on the Run that I can find, unless you don't like crime spoofs. If you do, this is a simple, fun read, nicely done. Four stars.
Links