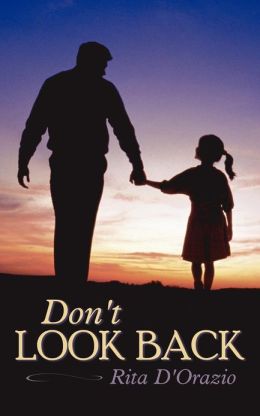 "Don't Look Back", the debut novel from Rita D'Orazio tells the story of Katerina Balducci, the youngest sibling of three children in an Italian-American Catholic family, and chronicles the ups and downs of family life during her childhood with a moody mother, slighting Katerina for her unplanned birth and throwing abusive diatribes at her which shape her as a person at such a young age, as well as recounting the challenging events that require her to grow up fast.
Culturally intricate with lots of Italian heritage and detail, D'Orazio often gives the reader a feast of words, "Mama makes the best seafood supper – she will be serving as appetizers fried calamari and smelts with fresh lemon wedges on the side; deep fried baccala (cod) fritters and baccala in a tomato sauce that has been sweetened by roasted chipollinis (small onions.) Our pasta dish is linguini a la pescatore, it is loaded with jumbo shrimp, sea scallops, fresh clams and mussels, you'd think Mama added honey to the tomato sauce it's always so sweet. As our main course we have deep fried whiting, and for those who don't want fried, Mama always makes a delicious oven roasted whiting with garlic, parsley and olive oil." – Enough to make your mouth water for the real taste of Italian fare – and the embarrassment that often comes with being a child of such a strong culture when Katerina's "smelly" home-cooked food is opened in the school cafeteria.
But it's when she is abused by a trusted figure at the church that she has to gather herself for the storms ahead. This part of the book is somewhat harrowing, and gives a really accurate and genuinely moving account. However, she is finally released by her first kiss and other coming of age milestones.
When her grandfather dies, she takes a trip to Italy, giving a holiday feel to the writing. "…They call it a villa; it's right on the waterfront. You should see how gorgeous it is inside. I'm not use to walking on marble; it's so shiny I feel like I could skate through…"
However, the narrative and dialogue does require a professional edit. Then again, some of this could be down to the voice of the character of Katerina, who after all is a teenager and has only learned English at the start of the book, "I will be starting school in less than two months. Thank God for Papa, he made sure I finally learned to speak English fluently this year."
But this doesn't excuse the grammatical errors. And pretty much all the way through this book I was finding this lack of grammatical accuracy bothersome, as well as the use of double-spacing after sentences, which was inconsistent.
This is a really girly book, dealing with real-life female themes and written in an open and level way – it could be classified as YA fiction, but the book can be of interest for anyone interested in the family life of an Italian-American girl living in California. Maybe a stronger plot would have carried this book further for me as it does tend to amble as a memoir-style family-at-odds narrative, but it's solid and readable, well-laid-out book that is definitely worth a go if you are looking for a female-led, easy to get into read with good characterization and fond memories after finishing, especially with the insight into Italian culture, even if ultimately it is a very sad and emotional book with themes of loss and love.
Recommended for a travel or vacation read.
Links