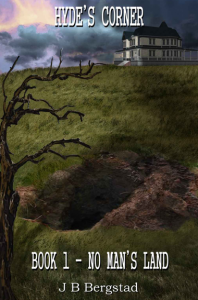 J. B. Bergstad's first novel, No Man's Land, begins in 1947 with Tom Burks, grandson of Selmer Burks, leaving his hometown of Hyde's Corner, Oklahoma to join the army. Then the story goes back to 1877 and takes up the tale of the settling of a wilderness known as "No Man's Land," the founding of the town of Hyde's Corner, and the trials and tribulations of Selmer Burks—trials and tribulations that lead, inexorably and quite horribly, to the situation in Hyde's corner in 1947.
Selmer Burks is born to a ranching family recently settled in what was then the Oklahoma territory. By the time Selmer is nineteen he has lost his entire family. The reasons for his continued losses are complex, and I don't want to give away any more than the book's blurb already tells you. However, this is a story of tragedy and revenge, and Selmer Burks learns that revenge is a dish best served cold, a dish he truly savors. Burks initially planned a quick, suicidal revenge, but after being elected sheriff of Sundowner county, he discovers a way to exact his revenge in a fashion that is both legal and satisfying. In some ways, however, his revenge does not seem that much less suicidal. The story illustrates with painful clarity the dangers of nursing hatred and passing it from generation to generation. It also subtly points out how difficult it can be to trace back the origins of wrongdoing and how easily one rash response to perceived evil can lead to a chain of tragedy and sorrow that affects far more people than those originally involved.
Bergstad does a good job of creating his main characters, Selmer Burks and his father, Silas Berks. It is not hard to see how Selmer became the hard man he is and why he takes the actions he takes, even when the reader can clearly see his mistakes (and those of his father) before he makes them. Like the little girl with the curl, the bad guys are thoroughly horrid. The good guys are often endearing, but they are mostly secondary characters. The main characters (Selmer and Silas) are more nuanced, and while Bergstad gives them clearer motivation for their actions, it is hard to call them "good guys." In fact it is hard to even like them. Bergstad resists any urge to romanticize the situation, even as he shows the deepest suffering of the Burks family. I would have liked to have gotten to know some of the female characters a little better. The women seem to be a bit more sketchily drawn than the male characters, but I expect that in the coming books the women will play a bigger role in the action.
The book is very nicely written and well paced. I was never for a minute bored, yet the pace was not as breathless as in so many books these days. Bergstad is a confident author who takes the time he needs to tell his story. He is good at both characterization and at describing action, including one of the most painfully clinical fight scenes I've ever read. Bergstad works in a lot of interesting detail about ranching and life on the prairie, helping to bring the setting to life. The Western dialect is consistent and not overdone. But Bergstad's skills aren't limited to those required by the genre. He has a subtle command of language. He uses touches like this one (a man is about to read a journal he knows may change his life) to both paint the scene and develop tension:
With reading glasses wound about his ears, he tapped a

fingernail on the cover as if knocking for permission to enter.
Even readers who don't particularly care for Westerns or family sagas will likely enjoy the way No Man's Land works classic themes of justice, revenge, and how to build a just society. But be warned: This book ends with what may be the most compelling cliff-hanger ever written.
Links
Amazon
Barnes & Noble
Smashwords