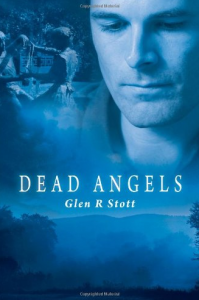 Oily, paranoid, grim. "Dead Angels" by Glen R. Stott is an uncomfortable book, one that before any further reading should carry the warning that it touches on very sensitive material, and while it does not do so in any way gratuitously, or without proper understanding of the horror of the topic, it does not hold back or shy away from exploring it. This is a book about murder, abuse, and rape from the perspective of a convicted child sex offender.
Three years ago, Shari Darling sent her husband, Carl, to prison for molesting her daughter, Tami. Carl has been released on parole, having successfully proven himself to the authorities to be a reformed citizen. Shari is unconvinced. Soon her discomfort and anxiety is fed by anonymous letters, dead bodies and Carl's ex-cell mate who seems to have his own answers. Shari's friend, Detective Tom DeMayo, is handling the case. The evidence points to another convicted child molester, Dale Richards, who is also on parole, but cannot be found.
The author seems to have an unsettling amount of understanding of both the way the offenders think and feel and how their victims, survivors and captors respond. The anger and fear that grows from passive to very active in the minds and actions of Shari and Tom are so believable I wonder if they were built from a biography or diary, complete with realistic exchanges in therapy, work and with friends. More disturbing are the poems, thoughts, dreams and actions of the mentally-unwell perpetrator whose motives are clear in the most unnerving ways. Scenes occasionally feel a little flat and purely dialogue based in some parts, but whenever "the man" begins a chapter, the putrid, visceral and unrelenting nature of his mind is shown without mercy, from the twisting of the knife in a victim's gut to the recalling of a stench and feel of vomit.
The style is sensational in a literal way and seems to suit a screenplay very well. His view of his potential and actual victims is twisted and perverse in a way that a man beyond a point of remorse could feasibly view the world, with focused and paranoid beliefs and goals, doubt twisting into conviction and loathing directed into plans. You genuinely fear this man, and have his thoughtful and doubtfully-guilty ex-cell mate Russell as a comparison point throughout who admits his illness and at least gives a true impression that he is resisting it, despite his insights. A comparison to Hannibal Lecter could be drawn, but the book definitely has its own flavor and not one to confuse with Silence of the Lambs or Red Dragon.
This is a terrifying and nail-biting read that while incredibly well researched and in many ways enjoyable, should not be taken lightly. This could be a disturbing book to many, many readers, especially to someone who may have children of their own, or have been a victim of abuse themselves as the book refuses to censor itself as much as it remains as focused and does not utilize any subject without a solid reason. Depictions of sexual acts and violence against children are kept as low as possible, but the horror and viscerally nerve-wracking tension of the read still permeates. I needed breaks to wind down after a chapter personally, and was honestly glad to end the read to reach a conclusion.
If this experience only makes the book seem more appealing I cannot recommend it enough, as it is an intelligent and interesting book overall, complete with action, emotion and this review won't spoil anything further, but twists are no doubt expected.
Links
Amazon
Barnes & Noble