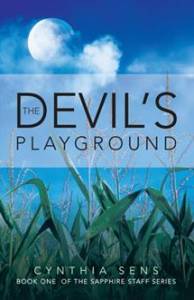 The Devil's Playground (Sapphire Staff #1), by Cynthia Sens, is an action-packed novel that's hard to put down. Mel Taylor was born in 1916. He's lived through World War I and World War II. Now he's forty-four years old and the year is 2011. No, he's not some old dude that looks really young. He's really only forty-four. Somehow he has traveled through time.
In 2011 he is plagued by nightmares and hardly ever sleeps. Then his only friend, Joseph, asks him to help one of his buddies. Joseph's friend is a father and his son has been missing for over a year. Mel can't say no and begins his quest to find the missing child. What he finds along the way is shocking, thrilling, terrifying, and good fun for the reader.
This novel starts off slow and can be somewhat confusing. It's made clear that Mel is from a different time period, but the information is dropped here and there and the reader has to connect the dots along the way. This may annoy some who have to know everything right away and have zero patience and the inability to suspend their disbelief. Other readers, who like to have a story unfold slowly, will enjoy the mystery and intrigue about Mel and his past. It would be helpful in the rest of the series if the author continues to share more and more about Mel since there seems to be so much still unknown about his past.
As for the actual mystery that Mel is trying to solve (the missing boy), once again the author demands that the reader just go with the flow. Parts of the mystery are so far-fetched it distracts some from the actual story. However, if the reader is able to ignore the implausibility, the story is quite entertaining. In fact, it would be easy to read this novel in one sitting since once the action gets going, it doesn't stop.
The best part of this book is Mel. He's from a different era and the author does a wonderful job of staying true to Mel's character. She's made him into a crotchety person that is more like a grandfather who has lived through much instead of a man in his forties. He's witty, incompetent when it comes to technology, snarky, reliable, and honest. It's easy to fall for Mel and to cheer for him. Without such a strong character this novel would not work. The story is good, but Mel is fantastic.
This is the first book in the series and it's a wonderful start. After you read the epilogue you'll be anxious to read the next installment. I read this book in one sitting. It has a little bit of everything: history, action, humor, adventure, and even the supernatural. It's the type of book that once it gets going is a true page-turner. Just don't over think it. Go with the story and enjoy. It really was a delight to read and Mel is a wonderful character. Hopefully the next installment will be out soon. It's exciting to read the first book in what appears to be a promising series. Well done, Cynthia Sens.
Links
Amazon
Barnes & Noble