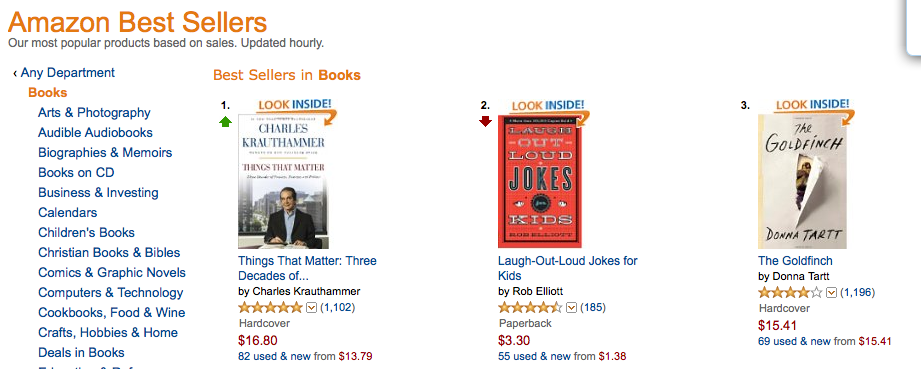 Cate Baum muses over the state of the self-publishing industry as sales figures show that consumers have indeed taken over the asylum.
In the days of traditional publishing, pre-internet – and even some time past the internet really kicking in around the end of the 20th century, the days of hovering in bookshops on word of mouth hunts for gems still existed. Pre-dating sites, potential lovers would sift through Proust and Kundera to up their game, whilst pre-Facebook, glossy hardback photo books remained the only true way to connect with subcultures and style.
Newspapers such as The Guardian in the UK and the NYT, acting as expert literary voices, made or broke writing careers. These wonderfully erudite writers, whose reviews were as beautiful as the books they critiqued, were the voices we trusted to guide us towards the light of "properly" written stories and narratives. Even as late as 2005, books were discussed (Oprah aside – yuck) on late-night television in Britain and the US in terms of literary approach and meaning. Books would remain in a bestseller's chart for months, working their way from the front tables at Barnes and Noble until they would reach an honored slot on the "genred" A-Z shelves for as long as they were in existence. Years later, copies of books from as early as 1930s lined the musty walls of my university library – because they still had something to offer in the 2000s.
I remember being lectured in 1997 at college in London by the great design pioneer Paul Wylde about what would happen when we could order groceries and gifts online to our door. It was seen as a great move forward for the elderly and disabled. No longer would whole sections of the community (yes, there used to be a real one out there) would be able to live free again. Everyone would count.
And for self-publishing, that seemed wonderful. A literary servient tenement that for so long was a landscape that merely provided and selected was now taking hold of the providers and forcing the gates open for all. Websites started to create comment boxes, rating systems and forums. It seemed that at last, consumers could tell providers directly what they loved and hated – and bring products to their knees in days. We hung onto the idea that self-publishing, with the advent of Lulu and Createspace, would do wonderful things for the publishing industry. At last, the consumer was the provider, and the critic, the supporter, the fan.
But a funny thing happened on the way to the forum…human nature is not quite what it should be online.  Without the safety of an editor-in-chief or face-to-face interaction to filter any narcissistic opinion, we are lost on a sea of self-entitlement. The reader is greater than the writer, even in writing, paradoxically.
And, unfortunately, this kind of critic can be swayed entirely because of this lack of experience. For instance, there is a technique used by movie studios where if a film is going to be a bomb, as many cinemas as possible will be booked to show the movie for one weekend only. Money is spent on a brilliant poster campaign. The opening weekend, flocks of consumers see the movie and hate it. But they've already paid. When their reviews go up across the internet, nobody cares. The film makes back its budget, and the studio can move on. In fact, sometimes the fact the movie gets to number one at the box office induces an "emperor's new clothes" power to the movie – people actually pretend to like it. More people go to see it. Nobody wants to say online they hate the movie. Because human nature dictates that peer pressure bends even the mightiest ego. A sequel is made… Suddenly the film has five star reviews because nobody wants to look uncool; everyone wants to be down with the kids.
And so it goes with book reviews. Any attempt to stymie a one-star quality book that has scaled the ramparts through sheer force will be met with hatred. Look up any book on Amazon with a lot of reviews – one you hate and know to be written by a hack. You'll see it. (I could name names – but…)
And because the consumer is now the most trusted critic because they are "one of us", the transaction is now based on consumer reviews rather than critic columns. This image from Nielsen shows that an astounding 18% of customers trust other consumers rather than expert reviewers nowadays, "According to Nielsen's latest Global Trust in Advertising report, which surveyed more than 28,000 Internet respondents in 56 countries, 92 percent of consumers around the world say they trust earned media, such as recommendations from friends and family, above all other forms of advertising."
So why is it that we trust other people over trained critics with years of experience in their field? Why should someone whose review clearly shows a lack of language capability, with grammar and spelling errors (or the dreaded CAPITAL LETTERS REVIEW) be part of the zeitgeist determining which books I am faced with when I click on recommendations? Surely the cream should rise to the top, and not that which floats best (One might say, "that which is most full of air floats best")?
There is of course the sad reality that many self-published books are self-published because they are simply not good enough to find a publishing deal. Some of these books have been rejected for years before the writer decides to self-publish. And many of these writers do not bother to edit or package their work to give themselves a fighting chance. Just take a look at these self-published book covers to see examples of sheer crap (We offer a book cover service if you feel you'd like to avoid this fate).
Andrew Franklin, the managing director of Profile Books recently said. "The overwhelming majority [of self-published books] are terrible – unutterable rubbish," said Franklin. "They don't enhance anything in the world… These books come out and are met with a deathly silence, so the principle experience of self-publishing is one of disappointment. I was very shocked to learn you can buy Facebook friends and likes on social media. That is what passes for affirmation in what I think is the deeply corrupt world of self-publishing," he said, stating his belief in the need for the publisher as "gatekeeper". He added: "I think there is a process of the professional making of books which does make a real difference to the reader and the writer."
In fact, the wicked truth is that despite the drive in the creation of self-published works, only 2% of books bought online are self-published. And the most common reason to buy a book? The price. Yes, dear reader, not the quality recommendation of a trusted critic at a wonderfully educated book column but the lowest common denominator – money.  And while that may be a sobering concept before you release your book to the mob out there to rip to shreds – or IGNORE – worse than death – the figures for sales on Amazon are pretty depressing. Gayla at Feral Intensity worked out the figures.
90.7% of all books on Amazon are ranked 900k or more. A title allegedly needs to sell at least 1 copy daily to stay between 50k to 80k in rank. So that leaves only .5% of the rest selling one copy a day.

– Only .01% of titles are doing really well on Amazon.

– 0.13% likely earn "good living" money for their authors.

– 0.31% earn from "living" to "pay some bills" money.

– 99.55% of ranked titles are earning "pocket change" to having only sold 1-2 copies total in order to receive a ranking.
So if only 2% of those books are self-published, let's do the math. Amazon on average sells 5 million books a year. So 2% of those books are self-published. That's 100,000 books.  Ed Robertson at Failure Ahoy says,
If a #2000 rank is good for $5000/month, that means about 500 indie books are doing that well on Amazon–but the ones on the upper end are doing much, much better. An indie with a $2.99 book ranked #100 is making something along the lines of $1000-1500 a day.
Given that most authors we have heard of have on average 5 books apiece or more, you are looking at being one of  a maximum of 100 authors out of millions who make enough money to keep afloat as a writer.
On top of that, you need to do all of your own promotion online, spend time and money on mail out and PR services to compete with professional authors and scrape about for reviews that don't stink. Likelihood is some "critic/reviewer" on a consumer platform will one-star your book in days as "boring" or "can't get into it" – phrases that kill your sales dead – and phrases that professional critics would never use. Phrases that a PR team at a proper publishers would not allow in print. Reviews that, if you had been professionally published, would be at the bottom of a big pile of beautifully crafted reviews in newspapers and magazines. Reviews that can't be trusted – that you will discard as " idiotic and illiterate." But Amazon won't remove them. They are consumer comment. They are your new audience. And guess what? This is what we asked for.
It gets worse. Not only are consumers leaving comments on forums, but they are forming their own websites. " Free book reviews" are sprouting up all over the web. All you have to do is stick to the guidelines, and you too could have a book review for free. Sounds like a cinch?
Well, let's look at some of these guidelines. I won't source. But I did spend a whole day looking at these because they were so car-crash humorous.
" Only send me books with happy ever after endings."

"Only send me your book if you have oky-ed [sic] it with me"

"I don't do anything but science-fiction led romance – if you're not sure what that is, don't bother."

"I won't review your book if you don't email me first AND YOU MUST FILL OUT MY FORM (the form had 30-odd questions)"

"We only review vampire or werewolf stories with sex or heavy petting"

"I won't review your book if you haven't got six or more five-star reviews on Amazon"

"We won't review self-published novels if they are more than 600 pages"

"I will only review books with a strong female character and she must be adventurous"
Right-o. Well worth it, then, given most sites have less than a 2 Page Rank – i.e. nobody visits them. The reviews are low-end, badly written garbage, and the websites are hideously designed. And yet these "critics" act like Kenneth Tynan or Michiko Kakutani.
While this is all up for debate, I shall leave you with this from Roosevelt. Remember, the writer writes. Keep writing.
It is not the critic who counts; not the man who points out how the strong man stumbles, or where the doer of deeds could have done them better. The credit belongs to the man who is actually in the arena, whose face is marred by dust and sweat and blood; who strives valiantly; who errs, who comes short again and again, because there is no effort without error and shortcoming; but who does actually strive to do the deeds; who knows great enthusiasms, the great devotions; who spends himself in a worthy cause; who at the best knows in the end the triumph of high achievement, and who at the worst, if he fails, at least fails while daring greatly, so that his place shall never be with those cold and timid souls who neither know victory nor defeat.
Self-Publishing Review offers a professional review service.