Though 99Designs has had mixed reviews of their logo design service, the book cover wing has a good track record. JC Leland was the e-Book Cover Design Award Winner for June 2012 in Fiction at the Book Designer blog using a 99Designs cover.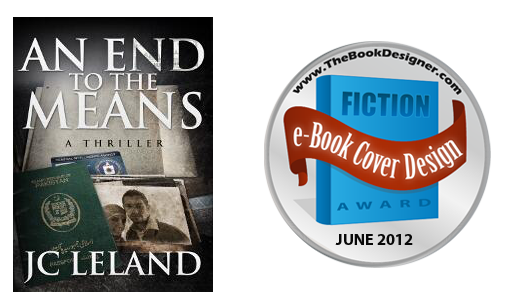 The author captions: ""I ran a design contest at 99designs.com to develop the cover art for my book. Highly recommend this process for authors!"
Here's how it works: you submit info about your book to the pool of designers and pay money up front ($299 and up). This acts as the cash prize, and then designers around the world design a cover, with the author selecting the eventual winner. If you have any experience working with a designer, it can be a headache if they're not able to meet your vision. If that's not the problem, a designer may only create one or two drafts before charging more for revisions. With the 99Designs model, you can potentially get a hundred (or more) designs all at once.
When it comes down to it, the risk is more for designers than it is for authors – author Ryan Casey explains:
The winning designer might receive a cash prize, but they lose control of their work as soon as you sign that agreement. That technically means that you can 'claim' you designed the piece yourself, if you're a real ass.

However, the internet is a changing landscape. Sure, some designers will complain, but nobody has to take part in a design contest. If you're looking to set up your own service, then go ahead. I'm just saying that, as an author, the sheer amount of designs that came my way in a 5 day period was overwhelming to say the least. For an approximate figure: well over one-hundred.

And, now I've used it, I don't think I'll ever turn back. Holding a design contest taught me that there are hundreds of talented designers out there, but not all of them match my own personal vision. By being able to see a myriad of designs, it enabled me to work out just what my vision was, and actually also helped strengthen my synopsis.
The site has examples of former design contests and they're impressive. Here you can see the top three entries for a $499 project:

Along with a synopsis, this is what the author included as a cover description:
The cover should reflect the hardship of survival reflecting it in the use of old weathered leather to make it look like an old memoir, or it can be the view of wilderness and some elements of power (the gate, swords, armored character).

The theme must be original and inspired by the middle ages style but with the designer's own twist.

The book's size is 6×9 inches.
See more examples here. Open contests are here.