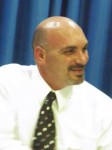 Adam Santo is the author of the novel "Temperature: Dead and Rising", a zombie novel.
How did you come to self-publish? My wife wanted me to publish some of my work. I thought "What the heck" and went to writing full time. It has been a wild ride finding the right budget to pay for self publishing.

Did you try to get published traditionally? I didn't think to offer my manuscript for publication through the formal channels at the time. I have sent out query letters with a rejection as a response. I know rejections are just the way life goes for a writer and it is not disparaging in the least. I should expect such responses.

What self-publishing service did you use? I went with CreateSpace for my publishing needs They were a great help in editing and formatting the manuscript for printing. The other reason I went with them was for having my book on Amazon fast. CreateSpace is a part of Amazon and I had hoped it would give me a step up on sales.

Happy with the service? Overall, I am happy with what I got out of the services. I wished they offered a return policy for brick and mortar stores. That would have more stores possibly carrying more independent authors on the shelves.

What avenues have you taken to market the book? I have tried Twitter, Facebook, a personal website, and various blogs to market the book.

Have you gotten reviews, interviews, TV, print media coverage? I have had quite a few reviews at Goodreads and an interviews at IndieReads and here. I had CreateSpace send off a PR announcement, but beyond that I haven't seen to creating print media coverage.

What drove you to write this particular book? I said it earlier – my wife. She read some of the writings I did as a hobby to pass the time and she said I better get some of it in print. What I had felt to a computer crash. Because of that, I started on Temperature: Dead and Rising (sometimes found on a search engine as Temperature or Temperature: Dead + Rising) at a fast and furious pace.
Is the book in any one particular genre? Well, you ask a funny question here for me to answer. I wrote this to fall in the fantasy genre. I'm still at odds as to where it really needs it's home to be. It could be Fantasy or Urban Fantasy, Paranormal, and YA fiction to name a few.

Is it a genre that's familiar to you? It is one I am familiar. I wrote a fantasy novel not unlike Jim Butcher had for The Dresden Files. In no way can I compare my work to his, I only use his name to give an idea of what kind of backdrop I used to create from.

Who are your greatest writing influences? Well, Jim Butcher is one such write that influenced me. Piers Anthony is another from my youth that brought fantasy to life for me.

What's your writing regimen? I write when I can. If I am working, the most I can do is scribble down a few notes of what I want to write. Before getting hired for this new job working past midnight, I would write almost exclusively at night. It seemed the easiest time to work. Now it is when I sit down for more than a few minutes.

Any tips for keeping focused? I like listening to music. I use it to drowned out any other noises while at the same time not focusing on the words. Mostly the rhythm gets my mind working.

Would you self-publish again? Yes. I feel its a great way for authors and writers can get a manuscript out without waiting for the right time for their topic to become popular. If we all waited for that special moment where people felt what an author wrote could appeal to them, then we might never see a new title ever.

Any final words of advice for those looking to self-publish? Find the package that fits you. So many self publishing companies offer to print your book, but do they offer a return policy? Ebook formatting? Cover design? Find what you want, then find the price that fits. Don't forget to read and discussion group posting on each of their sites. What people say there are from authors that have paid for the service and now are trying to find out how it all works.