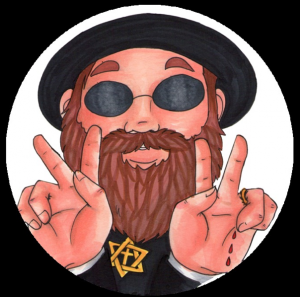 Chris M. Finkelstein was born in the woods and raised by Christian wolves that had become secular Jews by two thousand years of refinement, the first half quite dark.
How did you come to self-publish? Did you try to get published traditionally?
I already published a non-fiction book over two years ago. I did not try to get published.I did have a professional company, bookcovers.com, do the cover and the interior. They were great guides and very professional.
Since I had been through the ropes, I decided to start this novel myself, again. I did it all on my own, this time. I'm pretty good with Photoshop.
What self-publishing service did you use? Happy with the service?
I am presently using CreateSpace, and they are great. It's a technical thing, creating your own book, and you've got to do your homework. If you do, then everything goes smoothly. I love their prices, and convenience.
What avenues have you taken to market the book? Have you gotten
reviews, interviews, TV, print media coverage?
The ebook came out in March 2011, and the print version came out in April 2011. I am presently seeking reviews and interviews to start off with.
I have started contacting book blogs this past week, and getting an acceptance rate of 5-10%, which I guess is pretty good. One of them has asked me to do a guest post on his blog.
What drove you to write this particular book?
I have had a vague idea floating around in my head for a few years – a way to describe how the salvation of an environment of demons might take place.
Is the book in any one particular genre? Is it a genre that's familiar
to you?
It is a mix of fantasy, action, a little horror, and adventure.
Who are your greatest writing influences?
Hermann Hesse, Robert Heinlein, and a woman who's historical fiction books I read in high school that I can't find for the life of me.
What's your writing regimen? Any tips for keeping focused?
It's easy when you love projects and are obsessive/compulsive. I am on it every evening, for hours. Unless my wife needs me to do something.
Would you self-publish again?
Who else is going to do it?
Any final words of advice for those looking to self-publish?
If you have free time, you can do it, for almost free. Will it be good? I don't know if mine will be accepted. I have a number of reviews expected, and I'll know more about it's acceptance then.