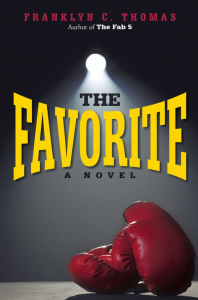 Second chances are rare, no matter how much a person wants them. When Michael Dane is given a second chance he has to make the toughest decision in his life. What's the decision? You have to read The Favorite to find out. It may shock you.
Michael Dane is a fighter who has a shot at becoming the IBF Light-Heavyweight Champion. He's trained all of his life for this chance, but some mistakes almost ruined his shot. One blunder landed him in prison for eighteen months. Michael's manager, Dante Alexander, helps Michael elevate his career and has helped him reach this chance. At what cost? Dante isn't just a boxing manager. He's also involved in drugs. Dante asks Michael to help him with the seedier sides of his business and things go horribly wrong. The fighter wants to be just that, a fighter not a thug. And he doesn't want to go back to prison. When Michael confronts Dante, the fighter receives an ultimatum in return. Michael has to decide what type of man he wants to be and how he wants his unborn daughter to see him.
This story is about life and taking a hard look at the decisions that define the main character. The author weaves Michael's memories into the story as the championship fight is occurring. It's a brilliant way of breaking up all the fight scenes so the reader isn't overwhelmed. Even if a reader isn't into boxing, there's so much more to the novel. Many of us have made mistakes in our past. And many of us want to become better people. This novel pulls at the heartstrings in addition to getting the heart pumping. It's easier to cheer for a character that readers can relate to. You may not know or understand all that Michael's been through, but more than likely you've felt like an underdog at some point in your life. The author wisely helps the reader to connect with the main character and pulls them into the pages so the reader isn't just observing what's going on, but relating to it on some level.
As the novel progresses it becomes less about one boxing match and more of a character study. There are enough fight scenes to satisfy boxing fans. Yet, it would be a disservice to discount all that this novel has to offer. This novel can't be pigeonholed into one genre and readers from all different types of backgrounds may find themselves immersed in the story. Thomas doesn't pull any punches and shows the gritty side of life. Yet he doesn't hit you over the head with it repeatedly. There's a delicate balance that shows the maturity of the writer. Some might fall into the trap of using too much description to show the readers everything and to try to force them to feel pity. Brevity is important with this type of novel. Readers have imaginations and authors need to let them use their minds to see it all. Thomas understands this and it makes the story even more powerful. It becomes a story and not a ploy.
It's nice to come across a novel that hits all the right marks. The story is easy to read, even though the subject matter is gritty. Disappointment and regrets are bitter to swallow. We all have them and the author knows this and uses it to his advantage. Well done, Franklyn C. Thomas.
Links
Amazon
Barnes & Noble
[divider]