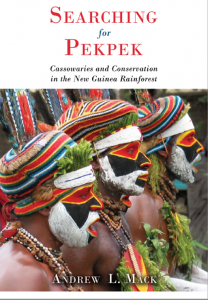 You won't find a lot of cassowaries in this book, just a lot of their droppings. What you will find is a beautifully written, well-told story of a biologist who goes to the Papua New Guinea (PNG) rainforest to live among the native Pawai'ia and do basic research. In the process he learns a great deal about how cassowaries distribute seed throughout the forest, and a great deal more about the challenges and heartbreaks of international conservation.
Of course it all starts with pekpek, the Pawai'ia name for cassowary dung. Mack brings a literary flair even to the description of shit.
 I have come to see the forest as the end result of many scats and regurgitations by many species of frugivore over hundreds of years. Every tree has a story to tell, of storms, landslides, attack by wood-borers, and competition with neighbors over decades and decades; and all those stories begin with a splat.
But it is not all about scat. Mack looks up and out as well as down. The book is rich in sensory detail, bringing alive the sights, sounds, and smells of an area few of us will ever visit.
The aroma of rainforest rises hundreds of feet up, and although much of it comes from decomposing vegetation, it is the rich smell of life. If colors have an odor, this is what green smells like.
Though the book begins with Mack establishing a research station for studying seed dispersal (among other things), it soon opens up, like a gap in the canopy, to encompass political and social issues of biological research and particularly of conservation efforts. Along the way we learn a great deal about the culture of rural PNG, the many and varied infections and other illnesses that lurk in the rainforest, the dangers of rivers in flood and treacherous trails, as well as the joys of sitting under a metal roof drinking tea, listening to rain, and watching the forest go about its life around you.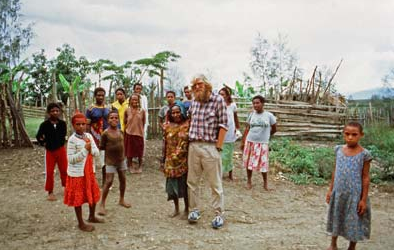 We meet a cast of delightful and eccentric characters, both heroes and villains. The book is very often funny, occasionally quite suspenseful, and consistently entertaining. Its delights include an hilarious description of a constipated cassowary and an exciting story of tracking radio-tagged seeds. Mack is very good at building suspense.
But the heart of the book is less about the challenges of living and working in the rainforest than about the challenges and complexities of international conservation. Mack ruthlessly and incisively identifies the flaws and faults of what he calls "Big Conservation." But Mack does not merely gripe. He offers an alternative, and this story is how he gradually and through many years of in-country experience learned what was needed for truly successful conservation and began putting it into practice.
As the story unfolds, Mack's emphasis shifts from independent research to developing native expertise, putting into the hands of the nationals the knowledge and skills they need to care for their own land. For most readers this will be a proposition both radical and, once the book is finished, self-evident.
Searching For Pekpek is a must-read for anyone involved in international conservation efforts (donors as well as administrators and scientists), but also for anyone who loves good science and nature writing.
The book is well-edited and formatted with a beautiful cover and many excellent photographs and illustrations. It has been a long time since I read at book that was at once so entertaining and instructive. I will never look at those donation requests the same way again.
You can buy Searching For PekPek  from Amazon in the non-fiction shelf of our store, or from all major retailers from our Bookshelf