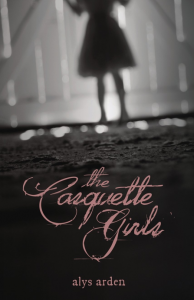 The Casquette Girls by Alys Arden is eerie, magical and gritty, getting into the grimy seams of New Orleans in the tradition of Anne Rice or Poppy Z Brite. A taunting and mysterious chant haunts during the read,
Seven girls tied by time
Five powers that bind
One curse to lock the horror away
One attic to keep the monsters at bay
As Adele Le Moyne and her father make it back into the French Quarter following a Katrina-like storm; abandoned, musty streets stare back at them – with unfamiliar elements that send shivers through the Gothic South. When Adele comes across a sealed attic, she begins to unravel a thread leading back in time through her own ancestry – and into a dark and supernatural world filled with voodoo, curses and history unknown.
Although this book is touted as a YA book, it really is for more than teens. As seemingly random events pull Adele in as the city rebuilds itself, Arden weaves all parts into a lace of delicate mystery slowly revealing the mysteries Adele has become involved in, complete with an inky map and compass illustration to set the scene.
This is a vampire story, and a romance, with a coven of petulant players and gorgeous boys for the 16-18 crowd to drool over – even the darkest characters have lovable elements. This book is timely in the wake of the recent TV exploration of New Orleans witchery in American Horror Story, and is ripe for the picking for those missing their fix of sexy black arts.
Folklore and the visual sense of New Orleans is wonderfully told, and Arden has a real eye-to-paper talent. Characters are rounded and well-turned. These details make this book for a broader audience, and actually make stuff like Twilight seem a bit flat and so long ago – even if this book unapologetically borrows its premise from Meyer's work.
On the downside, this work needs a really thorough edit to make it as good in presentation as it is in content.  Often words and names are compounded when they shouldn't be, and sometimes the wrong word is used entirely. This really needs dealing with straight away, because as the book gathers momentum online, more readers will notice these issues.
Another point is the lack of finish to the story. Many plot points are left hanging, but not in a way that adds realism, as is the wont of many writers recently. Too many unanswered questions seem to fade into the background and agitate through the last chapters as the reader seeks resolution. It doesn't seem to be the kind of open-ended writing to make way for a sequel; rather the plot has been left unattended on finish. There is also some amount of decision-making and motivation from Adele in particular that seems nonsensical at times. All I can hope is that in the next installment, Arden intends to address some of these points and has simply not conveyed this intention fully enough in this first book.
These points aside, with a deal of polishing this book could really have legs, because it's clear Arden has something going on here. The Casquette Girls will draw you in on your 500+ page read and lure you slowly to become part of a world full of twists and myths crafted intelligently by the author, and with a push, given the demand for interesting vampire stories, could win a loyal and passionate fan base. A very engrossing idea with promise for a series of books.
Links
Author Website
Amazon
Barnes & Noble