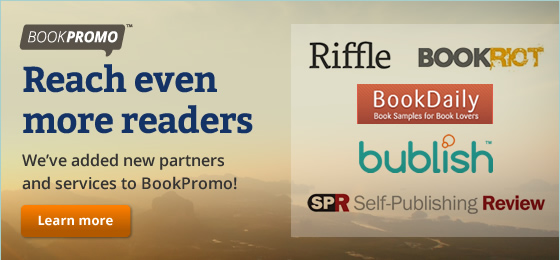 SPR is proud to today announce a partnership with BookBaby!
BookPromo, a set of promo tools that come free with every BookBaby publishing package, today announced the expansion of "BookPromo to be an even more powerful promotional tool", reaching thousands of targeted readers with incredibly affordable advertising.
BookBaby is the sister site of CDBaby.
BookBaby offers you the largest eBook distribution network, including Amazon, Apple, Kobo, Barnes & Noble, and many other popular retailers in over 170 countries around the globe.
BookPromo offers every BookBaby author a 10-question interview in partnership with Self-Publishing Review, guaranteed to be seen by at least 5,000 avid book fans across SPR's burgeoning social media network. In addition, SPR offers a massive discount on all review and editing products for BookBaby members.
To find out more, take a look at the BookPromo Blog or the BookPromo page here