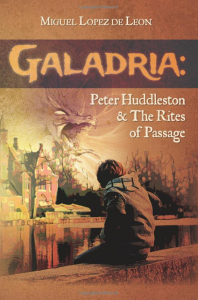 Peter Huddleston is an ordinary boy who lives in a dull town with his father and stepmother. No matter how hard he tries, he never fits in at school or at home. Peter, who is never without his trusty boomerang, moves from one blunder to the next until his father decides to ship him off to his aunt Gillian's home, Hillside Manor, for a summer.
At first Peter dreads spending the summer with his aunt. Then he finds out there's more to Gillian and Hillside Manor. In fact, Peter is his aunt's only heir and she is Queen of Galadria. Before he can be named as Gillian's successor, Peter has to face The Rites of Passage. Will the young boy succeed? And will Knor of the House of Shadowray, who yearns for the crown, abide by the rules?
Galadria: Peter Huddleston & The Rites of Passage is a delightful middle-grade novel and is recommended for readers ages eight and up. It starts off slow and it seems that's the intention of the author to pull the reader into Peter's world and his boring life until he's sent away to Hillside Manor. The opening pages are crucial for the reader to identify with Peter and the author's opening chapters really help form Peter's character. It's hard not to cheer for the young boy right from the start and to feel for him as he moves from one mistake to the next.
The author's writing style is easy for young readers to follow and the vocabulary is not too daunting and yet is still challenging enough to help educate. The story moves along easily and once the action picks up, it's hard to put down.
When Peter arrives at Hillside Manor the excitement builds, which will delight and captivate young readers. Not only is Peter a likeable character, the supporting cast is quirky, wonderful, and all are individuals. Even Rune, a powerful tiger, will enthrall many.
It's a bit surprising that Peter, who didn't grow up around magic, accepts the magical world almost instantaneously. Since he is a child, it might have behooved the author to have Peter question this new world a bit more to help develop Peter's character and to assist with the world-building. This doesn't mean that the story lacks world-building. The fantasy world that the author creates is imaginative and leaves a lot of room for growth in future stories.
The story doesn't let up until the end and the ending doesn't leave the reader completely hanging. The author does a nice job of leaving just enough questions unanswered to compel readers to pick up the next book in the series, while still having a satisfactory conclusion to the action in the first book in the series.
Not only will this story captivate young readers, but it may win over a few adult readers as well who are still kids at heart. It's a great story for families to enjoy together. Not only are the characters lovable but there are many memorable scenes. It will be exciting to find out what happens next.
Links
Amazon
Author Website
Press Release
[divider]