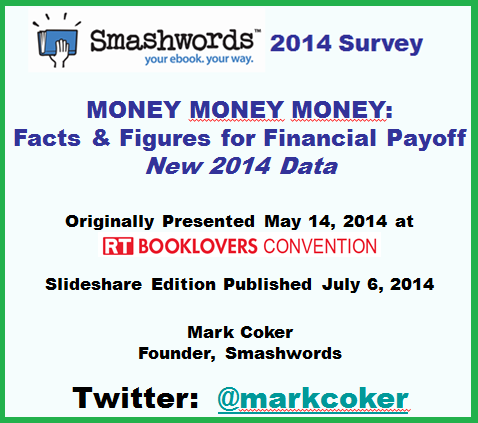 Via the Smashwords blog comes the 2014 Indie Author Survey. Some key findings:
Readers prefer longer ebooks – We observed this in the prior surveys.  Longer books sell better, and when you view the data through the prism of the power curve, it becomes clear why longer books give authors such a huge sales advantage.

Pricing – The highest earning indie authors are utilizing lower average prices than the authors who earn less, but this doesn't mean that ultra-low prices such as $.99 are the path to riches.  $2.99 and $3.99 are the sweet spots for most of the bestsellers.

FREE still works great, but it's losing some mojo – Free remains one of the most powerful book marketing tools because it makes it easier for readers to take a risk on an author brand that is unknown or untrusted.  Free ebooks, according to our data derived from iBooks downloads, generated 39 times more downloads on average during our survey period than books at any price.  Yet the effectiveness of free is down dramatically compared to our 2013 (91X) and 2012 (100X) survey results.  While there is still much untapped greenfield opportunity for indies to leverage free, I expect the effectiveness of free will continue to decline as more authors learn to take advantage of it.  If you've never utilized free, now's the time to do so before your window of maximum opportunity closes further.

Preorders yield sales advantage – When we launched preorders in 2013, we knew anecdotally from our early alpha tests that preorders gave authors a sales advantage.  The 2014 Survey is the first time we're able to share aggregated results, and the results are strongly suggestive that ebooks borne as preorders sell more copies and earn the author more money than books that don't utilized preorders.  I think preorders today are where free was five years ago.  The first authors to effectively utilize preorders will gain the most advantage, just as the first authors to enter new distribution channels gain the most advantage.  Five years from now once all indies recognize that preorders are a no-brainer essential best practice, the effectiveness of preorders will decline.  Also revealed in the data is the fact that most Smashwords authors (and therefore, most indies) ARE NOT utilizing preorders yet despite our aggressive promotion of this exciting new tool.  The authors who heeded our advice, however, are reaping the rewards.

Series yield sales advantage – For the first time, we examine the performance of series books.  This new analysis is enabled by the fact that in September we launched Smashwords Series Manager which allows us to capture enhanced metadata on series.  The results are interesting!  Series books outsell standalone books.  We also look at the characteristics of series.  I'll want to do more with series in our 2015 survey.