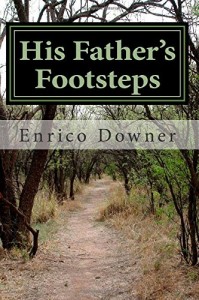 "How far would you walk in your father's footsteps to find the one who killed him?"

"To the ends of the earth," he answered.

And the fire in his eyes said he meant every word.
It's 1958 and Mark Maynard's Barbados home life is shattered by grief when he receives a letter reporting that his father has been murdered in New York, USA. Vowing to find the killer with his family's tearful blessing he takes to the streets of a country that doesn't respect him nor the unmarried man of color that was gunned down.
It doesn't take long for him to find out the depth of his father's problems, making friends and enemies in ex-business associates, the mafia and his father's secret romances. The trail leads into Alabama and Mark finds himself in mortal danger when he gains attention from the Ku Klux Klan and their plans to expand their hateful group to New York – all the while keeping the secret of his own forbidden love.
This historical murder mystery explores race unflinchingly in a hard-hitting emotional thriller, looking at every facet of oppression faced by people of color at this time in history. The work will demand the reader to look at how it is possible that such a nation as America has changed so little in over half a century in its attitude to racial issues; in fact, when reading Downer's work it seems we may have come full circle in the struggle for equality in a country that prides itself on rights for all.
This book carries an important message and legacy, and it is one of many stories that needs to be told if we as a society are going to deal with the prejudice that is rife and cannot be put aside any longer in the so-called Land of the Free.