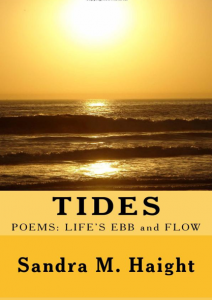 Sandra M. Haight's latest poetry collection "Tides" takes its inspiration from nature and the cycles of the seasons, and those emotions that tie us to the ground and the sky and everything in between. There is also a spiritual thread to these poems, with a prayer to God here and there,
A living thing I am–a flower of
God's earth. I see His flowers in the field;
The God that fashioned them created me.
Haight's poems are reminiscent of the work of Louise Bogan and invoke the spirit of Hawthorne's "The Ocean" with their all-encompassing breath of sea air and tangled stars. Nature moves around the poet as she observes and philosophizes. Haight ponders the death of her mother, a beloved cat and the eponymous poem "Tides" compares us to the ebb and flow of the waves,
We all are oceans courting with life's beach —
Both brave and timid, learning as we reach.
Haight's book is gentle and musing, with no sharp turns or falls, making it a soothing read for those looking for some inspirational words on a quiet day outdoors, or maybe a port in a storm in a busy life.
Amazon
Barnes & Noble
eBay
Author Website