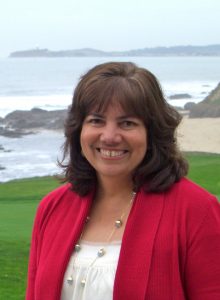 Barbara Freethy is the author of such romantic novels as the Callaways series (On a Night Like This, So This Is Love) and the Wish series (A Secret Wish, Just a Wish Away, When Wishes Collide). Initially, her career flourished in a traditional publishing format, but in 2011, recognizing the potential for new development in electronic publishing, she began self-publishing with digital formats as a cornerstone as Fog City Publishing, and has continued to produce successful titles since.
What books has she written?

Freethy has written over 40 novels, with a focus on romance and women-specific fiction. The Callaways series follows several independent stories about the eight siblings of a blended Irish-American family who find love. In 2009, she wrote a light-paranormal romantic fiction series with the Angel's Bay books, debuting with Suddenly One Summer. Revisiting the mystical in a more suspense-directed tale was Golden Lies in 2013, as an unlikely trio follows the trail left behind in an antiques emporium.
She now also makes use of audio formats on her books, making her work accessible to a wider market that have taken advantage of digital sales libraries in recent years.
The Success Story
Freethy wrote her first novel in her twenties, and succeeding in having it published traditionally, continuing with a career along with such companies as Silhouette Romance, Harper Collins, Penguin, and Schuster. In 2011, Freethy recognized the potential of the electronic books market, and making use of supportive retailers such as Amazon, Barnes & Noble, and Kobo, she began to release her backlist.
With evident success in the format, she began to release new titles through the format, and has continued to meet success ever since, eventually making #1 Kindle Direct Publishing seller of all-time in 2014. She now publishes herself through her own company, Fog City Publishing.
How many books has she sold?

As of last year, Freethy made over 4.5 million sales on Kindle Direct Publishing, which she became an independent creator in order to pursue. This made her the #1 best-selling KDP author of all-time.
In 2011, Summer Secrets was a #1 New York Times best-seller. Daniel's Gift also won a RITA from the Romance Writer's of America for Best Contemporary Romance.
Her author website can be found at BarbaraFreethy.com