I don't want to hold my tongue any longer. There's a vibe in self-publishing that if it makes money, it's OK. There's also a desire on behalf of authors for self-publishing to lose its stigma. Unfortunately, point a is detracting from point b. Just because something is making money doesn't mean it's well-valued.
While many want to hold up self-publishing successes and declare "self-publishing has arrived" it is not entirely heartening to see the types of books that are becoming successful – any more than it is to see yet another Kim Kardashian story on my news homepage.
I'm well aware that I'm not the audience for romance novels – never have been before I ever heard of self-publishing. Back then Harlequin books were in their own corner of the universe. Selling boatloads (for some reason) but not really something I ever thought about. Now they're everywhere.
Here's Galleycat's list of bestselling self-published books. I find the synopses for the first lot really painful.
1. Vain- Part Two by Deborah Bladon: "Posing nude for the illustrious Noah Foster seemed like an exciting escape from Alexa's life. No one was supposed to find out, but when the one man who owned her heart, discovers her secret, everything changes. Alexa is not only caught in a compromising position but in a situation in which her past and present collide."

2. Sweet Addiction by J. Daniels: "Wedding hookups never amount to anything. Those who partake in this wicked little activity know the rules. Get in. Get laid. Get out. There's no expectation of a relationship. It is what it is. Dylan Sparks knows the rules. She's familiar with the protocol. And she engages in the best sex of her life with a complete stranger at her ex-boyfriend's wedding."

3. Indestructible by Angela Graham: "Love. Passion. Respect. Logan West finally has the one thing he believed unattainable: the fiery woman who challenges, protects, and adores him just as much as she does his young son, Oliver."

4. The Fixed Trilogy by Laurelin Paige: "All three books of the NY Times Bestselling Fixed Trilogy are included in this bundle."

5. Uncovered by Emily Snow: "My name is Lizzie Connelly, and I have it all. The gorgeous apartment. The new job most women would rip out their own souls for—working for Margaret Emerson at Emerson & Taylor. I have one of those lives you've always dreamt about, the kind you only see on HBO. But, the thing is, that life is a lie. A façade."

6. Rhett by J.S. Cooper: "I'm Rhett. I'm cocky because I can be. I've got it all: the looks, the money, the endurance. I'm the guy that every girl wants to be with, yet none of them have ever been able to tie me down. I don't do love. I don't do relationships. And I sure as hell will never do marriage."
Let's look at those last two: "My name is Lizzie Connelly, and I have it all." and "I'm Rhett. I'm cocky because I can be. I've got it all."
Anyone you meet in real life who says "I have it all" is commonly referred to as a prick, yet somehow in books this fantasy is OK. It's not, really. It's embarrassing. It's doubly embarrassing that both books use the same trope.
It reminds me of the viral posts that say "These 10 pictures will change your conception of everything." Like this: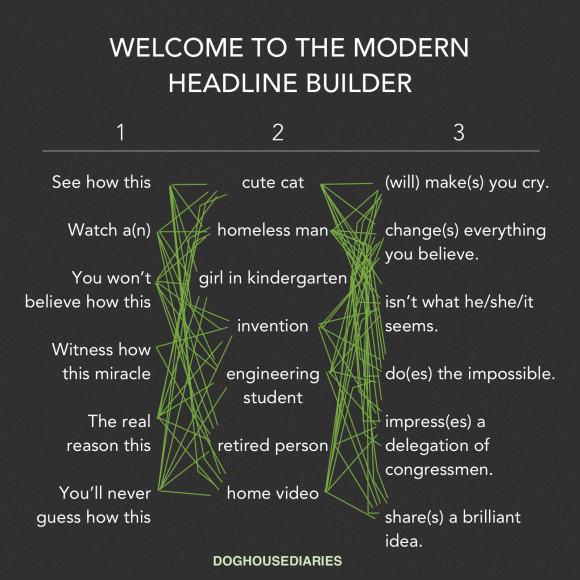 The people in these novels are like the literary equivalent of the above: empty slogans. It's like the characters are walking advertisements for themselves.
What do you care, I can hear people saying. So those books aren't for you. True. But I care about books. I care about self-publishing. And I don't find the fetishization of materialism and sexism as something to celebrate. It's actually pretty depressing.
As someone who advocates for self-publishing – who loves the whole medium – I sometimes feel the need to cheerlead segments of the culture that I actually find kind of dangerous. Women longing to be abused by men (50 Shades and the Fixed Trilogy being the most notable examples) is frankly weird. As a guy, perhaps there's no way I can understand this. As a father of a daughter, I hate it. I mean, even Divergent sends incredibly odd messages to young girls:
Here we see a girl getting the shit kicked out of her – cue girls thinking this is OK, it's part of being "strong." No it isn't.
This isn't a self-publishing problem entirely, it's a cultural problem. Either way, it's a problem.
I realize I'm not the first person to call 50 Shades of Grey sexist. What's happened is we've gone from one successful book to an entire literary movement. And it's a movement that's come to represent self-publishing, as is shown in GalleyCat's list.
There's no real answer to this. People are going to read what they're going to read. But if you tout the success of books like these as a victory for independence it sort of sounds like one of those people saying "I have it all."