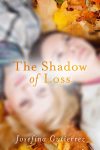 Josefina Gutierrez, an emerging Young Adult eBook author from San Antonio, chats about The Shadow of Loss and self-publishing.
Tell us something about your book. The basics: what's it about?
My book is about a young girl coming to terms with life and loss.  Evelyn has lost both parents and her best friend-soul mate, June.  On top of that, she lost June in a seriously traumatic experience, which has emotionally and physically scarred Evelyn.  All Evelyn craves is to be accepted in a socially unaccepted atmosphere, high school.
How did you come to self-publish? Did you try to get published traditionally?
I was told by a bunch of people to go the traditional route with publishing, but I opted to self-publish.  I have too many ideas floating around in my head- ideas in wide ranging genres.  I liked the idea of autonomy and how I am able to publish without clouding my projects.
What self-publishing service did you use? Happy with the service?
I used BookBaby's services.  They were fast and easy.  I especially enjoyed their cover photo service, because it was done in less than two days.  I will definitely be using BookBaby for my future works.
What avenues have you taken to market the book? Have you gotten reviews, interviews, TV, print media coverage?
I went through the fantastic promotion guide BookBaby offered (focusing on HostBaby, BookShop, Goodreads, Readers' Favorite, Story Cartel, and SPR). I created a website, Facebook and Google+, in order to keep in touch with my audience.  Also, I took advantage of Facebook advertising- since a majority of my audience uses social media.  The advertisements are easy to manage, and I can gauge my progress.  My first review was from Readers' Favorite, and they were as fast as BookBaby.  I am hoping to receive more reviews and grow my audience as I continue to promote.
What drove you to write this particular book?
The lack of diversity and realistic fiction.  There is phenomenal Young Adult literature out there, but there needs to be much more.  Young Adult can cover so many issues, other than boy-girl-drama.  I write stories I would like to read on a Sunday with a steaming mug of coffee and my munchkin curled up with his book.
Who are your greatest writing influences?
A few of my influences include, but are not limited to, Julia Alvarez, Pat Mora, Neil Gaiman, Sandra Cisneros, Jacqueline Woodson, Ernest Hemingway, and Pam Muñoz Ryan.
What's your writing regimen? Any tips for keeping focused?
I map out the project I have in mind, then summarize or list event sets in chapters.  After that my mind is constantly working on an issue or a topic.  I work through scenes, sometimes a conversation, in my head, then focus on how I will get there and evolve.  I write every day, it could be a sentence or a paragraph, but I write.  It is easier to stay focused if I set an achievable goal.  If that doesn't work, dance party and zebra cakes aaaallll the way!
Would you self-publish again?
I will definitely self-publish again.  I am already working on my next two projects due out in 2015.  My second eBook will follow a young girl Cristal, who has to make certain sacrifices in order to raise her young brothers after a family tragedy.  My third eBook will be dramatically different, it will be a mystery thriller dealing with a different perspective into femicides near the Texas border, and how it effects the characters on both sides of the border.
Any final words of advice for those looking to self-publish?
You really need to ensure you're writing for others' engagement, and not for profit.  If you have confidence in your message and story, then get it out to the masses.  It takes time, effort, and money, a good chunk of money.  If you are willing to put in the time and money, then do it.
How can people keep up with your writing?
I encourage people to follow me on their preferred social media.  My website, Facebook, or Google+.
You can buy The Shadow of Loss, from BookShop or all major retailers.