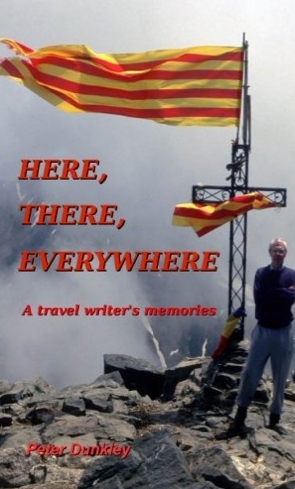 Peter Dunkley was going to become a lawyer when he fell in love and gave it all up – and then gave all that up – for a life of travel and adventure, starting in Bombay in the 1950s.
Now retired, Peter's book Here, There, Everywhere is a charming memoir on a road less traveled by an Englishman abroad, finding true love along the way.
Dunkley really is one of those lucky souls who manages to land on his feet, and maybe it's his capacity to embrace anything that comes at him and fully experience it that makes this book so enjoyable for the reader too. Bombay is captivating with its noisy cinemas as is his short foray into English crop circles and the touching encounter with orangutans in Sepilok. Filmic scenes on Holi day in India where he is covered in colored powders, especially as he is a foreigner, and nomads' songs around campfires outside Bukhara, a flight over Mount Everest and tantalizing descriptions of food in Andorra are especially poignant pushes to invigorate the imagination and a lust for life in readers.
Not only is this a travel reportage, but it's also a look back in time when traveling the world was not so quick and easy, making this book somewhat unique in its flavor citing differences between cultures that probably don't exist in the same way post-internet. This is travel writing of the Whicker's World era, where chasms of tradition and religion are the interesting parts of transporting yourself from place to place rather than talking about the nearest McDonalds on a forum. Dunkley is salt of the earth, non-judgmental and yet still literary in his writing, and the pace is choppy and full of no-nonsense description.
Dunkley comes across as humble and immensely likeable: Surely the best combination for a traveler and probably why in half a century of globetrotting he remains more interested in how the book will present itself, and to thanking his wife and friends for their support than worrying about the fact the book his readers are about to launch into is actually a marvelous and hugely enviable life story.
What this book really needs is a "proper" edit, because there are some grammar and spelling issues, as well as a sense that the way the book is put together is not quite there yet, not quite cohesive – probably because Dunkley is used to writing magazine reportage, so maybe the scrapbook of memories would work better in smaller diary entry style pieces rather than wading into India and suddenly coming up in Canada. I would also have liked a few more details about the places and people being visited in some of his tales so I could imagine them in more detail.
Despite these issues, Here, There, Everywhere stands up as a wonderful mishmash of travel anecdotes that allow the reader to pick up and put down within just a few pages, before being scooted off to another part of the planet for another corner of life's tapestry to be revealed.
This is just the sort of book for plane reading; something to uplift the spirit in times of the more trying elements of travel, to remind the reader that there's a world out there and all you have to do is go there and experience it. Definitely worth picking up a copy for a long journey. Maybe you'll be inspired to throw yourself headlong into the next destination you reach.
Links
Amazon
Barnes and Noble

[divider]