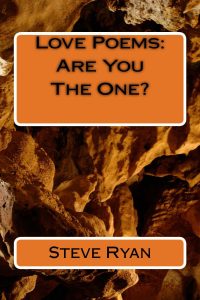 Love Poems: Are You The One? is a collection of heartfelt poetry written by musician -poet Steve Ryan, and the second such themed collection published on Amazon by the author, this time on the subject of love and romance. Also a singer/songwriter, Ryan uses his lyrical talents to create succinct and intriguing pieces on a wide range of emotions and subjects intending to tackle the many dimensions of the searching question of any romance: "Are you The One?"
The book contains forty-nine poems of a contemporary American style with a little of the Georgia vibe of Judson Mitcham or Natasha Tretheway to the narrative flow, a confrontational and conversational flow devoid of much regard for lines, instead concentrating on rhythm of the emotion in the words chosen.
The book is divided into more or less ten poems in each of the five chapters, encompassing each distinct stage of romantic interest: Dreaming of Love, Falling in Love, The Relationship, Heartbreak, and Reconnect or Move On. The chapter titles are rather self-explanatory, correlating to infatuation, coming together, being together, loss of love and how to react to the energies in relationships.
The themes of the poems included in each are surprisingly broad, taking more than a single view of any of the emotions that come with each stage, including surrender, fear, and rage. Despite this, there's a distinct positive energy to the entire book that is warm with the ideals of kindness and selfless love (as well as venturing into selfish love) that makes it a very good read for those who may not be aware of their emotions, or may not even love themselves enough to love others properly.
While never particularly long or complex, readers without much experience with this style of poetry can be sure to gain some insight into the poet's emotional range and reflect back to themselves. The poems are written with a strong concept of the core of these human emotions and how they can be shared, or tangle up and break apart; these feelings are made reasonably abstract in the prose, detached from limiting narratives or situations. Commonality is a key feature of the collection.
With a simple presentation and reasonably brief page count, Love Poems: Are You The One? is an intimate book that makes as much of a suitable gift to a loved one as it does to oneself. It's a good guide for those who may be unsure or out of touch with their emotions when facing new, current or lost love. The short nature in fact creates a very breezy pick-up-and-go read that is ideal for many casual poetry lovers as well.
For those looking for further self-healing, Ryan has also produced a similar selection on the subject of destiny in life, Life Destiny, as well as songs for sale on his website that touch on similar ideas with the same passion.
Links
Author Website
Amazon
Amazon Kindle
Audible
Barnes & Noble
GoodReads

[divider]