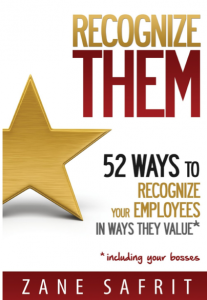 Recognize Them: 52 Ways to Recognize Your Employees In Ways They Value* Including Your Bosses by Zane Safrit, the CEO of a thriving business with years of entrepreneurial experience, is a can-do manual for respecting and developing your relationships at work when you are leading, or indeed, working as part of a team.
Safrit realized that the key to success is to celebrate successes of his employees and even his bosses, and to share and listen to knowledge of those around him. In this book, he shares 52 of his ideas, enough for one every week of the year, to help build and strengthen any kind of business, and in turn, to improve revenue.
While the concept of listening to your team isn't a particularly new one, Safrit does invest in some pretty original and detailed strategies, using the phrases bandied about a lot in higher-end marketing teams : Employee Evangelism and Employee Recognition. These phrases were buzzwords he had to buy into to become an efficient leader. And so what this book offers is provable paths to success while touching on other business leaders' philosophies. His testimonial, and testimonials of other business leaders, to the success of these ideas, and reports showing increases in productivity are what make this book so easy to read and follow.
There's a few issues: a couple of spelling and grammar errors here and there, and generally the book could do with a sweep on how it's laid out (especially the Table of Contents, that seems to sprawl for pages before getting to the good stuff ), and also there is some amount of repetition (this could be useful for some people needing to recap ideas) but generally this is a very useable book for business, and the kind of read that makes sense on a long commute or waiting for a client in the office.
Safrit's documenting of his, and others' mistakes with employees give some of the most valuable pointers, because these are the real situations that we can learn from through experiences. Instead of just preaching at his reader, Safrit claims his 'only human' defense, and therefore achieves a closer relationship with his audience.
Safrit writes on the level, and his chirpy and encouraging manner have unstuffed any stuffiness found in this type of book usually. He's made it an incredibly readable topic, and has managed to divide the immense amount of information into digestible chunks — very important for busy people — and has opened up the debates further on his blog. Safrit deserves to develop into a real go-to blogger for SMBs everywhere.
Considering the near-giveaway low price tag compared to similar business books on the market that tend to charge through the nose for this kind of information, albeit not half as well-baked as Safrit's, this is an extremely good value for money buy because it has so much information including a ton of quality references and quotes to go away and research further on the subject to improve as a business stakeholder.
Safrit is inclusive and generous with notes, and it's easy to imagine any business leader picking this book up will come away with focus, inspiration or a new trick or two for their team, however seasoned they may be. A worthy addition to any serious business library.
Links
Amazon
Goodreads
Author Website
[divider]