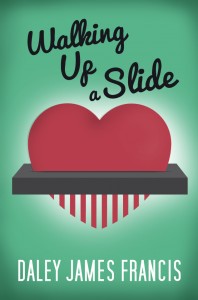 Dumped years ago by his college sweetheart Lila, and slightly lazy in his job going nowhere as a local hotel waiter in the same town he grew up in, Jason Chapman embarks on a quest chasing The One That Got Away when Lila sends him a wedding invite.
With no "plus one" to take along, he must spring into action with only his parents and slightly raucous and laddish best mates to assist him into firstly finding a date for the looming wedding so he doesn't look desperate in order to impress and woo Lila out of her intended marital bliss – maybe. But as Jason starts examining his current life, he finds that maybe he might prefer heading into a brighter future rather than back in time.
While most novels available about relationships are written for women by women, this humorous British novel by Englishman Daley James Francis is looking to start a trend for lad's fiction that talks about girls in a way blokes can relate to.
Aimed at a twenty-something audience, but enjoyable for anyone with a quirky sense of humor and a liking for Brit snark, Walking Up A Slide is a lovely shaggy-dog story filled with the sort of man-jokes seen in Simon Pegg/Nick Frost works such as "The World's End" and "Spaced," with a heavy helping of English custom and silly behavior for those wanting to explore what it's like to grow up in suburban England. Francis gets it exactly right, and it honestly could have been my diary from the early Nineties (I'm from Cambridge), with a soundtrack mixed in of the best of British Indie music that basically, unless you've heard of John Peel or Annie Nightingale's lifeline-like late night radio shows so legendary for the likes of us Brits of a certain age, you'll need to get on Spotify to discover a whole world of music sung along to in the book that we were getting down to at college in the Shires. (Yes, counties in the UK are really called "shire" like in The Hobbit.)
This book is lively and keeps rolling out as Jason freefalls into the last pages of the story, and into a massive set of exciting dilemmas. Francis keeps the reader guessing and nervous, and by the time you get through the first few pages you will be invested in our hero and his adventures of a normal guy in a normal town, from hoping for the oasis of working in Ibiza as a rep (in much the same way many young Americans dream of Florida's Spring Break season) to getting rather drunk and hungover and committing huge errors, there's loads to relate to, with probably a wink and a nod for every reader recognizing their free and single days.
Characters aren't overwritten: They are human. Stories aren't neatly wrapped to satisfy, and I am sure the ending will have you shouting, "NOOOOOO!" at the pages in your hand. (now you're intrigued, right?) It's a bold way to finish a book, and I liked it a lot.
Daley James Francis gets so much right here, and has marketed the book with a professional finish. I look forward to his next works with anticipation, and dare I say, a little excitement. Recommended.
Links
Author Website
Amazon
iTunes
Kobo
[divider]