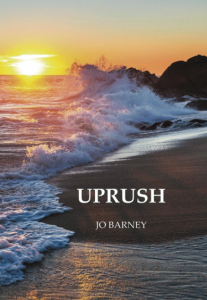 Uprush is by Jo Barney set in the Pacific oceanside town of Greensprings, where Lucius Baker the sheriff gets involved with the disappearance of Madge, an elderly resident, and the stories she leaves behind. The book tells the story of college friends Joan, Jackie, Lou and Madge in 1955 and the present day, as they grow and learn about life, ending up in the town they are now in, wondering what has happened to Madge. Family, death, love and life are woven through their experiences in the book.
The book is incredibly delicately written in a sometimes almost onomatopoeic style when Barney describes visually, and the book is rich and original throughout because of this, and because of the humor she also infuses into what amounts to something of a sad and whistfully melancholic tale. Sometimes reminiscent of The Little Friend by Donna Tartt, the characters are all infused with different personality traits and foibles as we explore their backstories and memories to find out what exactly the three "old ladies" have to do with Madge's disappearance.
This is a soothing and emotional read that should prove popular with those who enjoy character-led family-set fiction with a solid thread of mystery and romance.