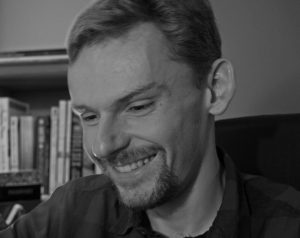 Tell us something about your book. The basics: what's it about?
When our Sun grows suddenly, and irreversibly accelerates, it begins to fry Earth into a cinder. Humanity survives by migrating underground. The Gertrude Threshold follows three generations of a single family on the day that scientists had calculated to be the final one on Earth. The three main characters, and the rest of the underground survivors, have no future, only the past, and less than 24 hours to reclaim the years the Warming stole from them while Earth begins to fall apart around them.
How did you come to self-publish? Did you try to get published traditionally?
The idea of self-publishing was appealing to me from the beginning. Like any author, you're so excited about the product you've created. You naturally want to be involved in every aspect of bringing your work to life (editing, designing the cover, marketing) and self-publishing gives you that opportunity. It can be overwhelming, though, and you can't – and shouldn't – try to go it alone.
What self-publishing service did you use? Happy with the service?
I self-published on Amazon and enrolled in its KDP Select program, and so far I'm very satisfied with my experience. The vast majority of ebooks are sold on Amazon, and with KDP Select, I get the most value out of the platform. I also worked with Kirkus Editorial to edit my book and Jera Publishing to format it. I'd recommend them both to any indie author.
What avenues have you taken to market the book? Have you gotten reviews, interviews, TV, print media coverage?
I've been using a mixed approach of digital advertising and sponsored articles (e.g. reviews and interviews) as well as outreach for organic reviews and book/author spotlights on indie book review websites and blogs. When each of these tactics work together and complement one another, you really start to build momentum and see results.
What drove you to write this particular book?
I began work on The Gertrude Threshold right after I stopped short of publishing my first novel. Weeks before that, I had completed a short story set in the same world as The Gertrude Threshold with only two of the final novella's characters. After shelving my first novel, I had the time to transform this short story into the longer work I had originally imagined.
The short story itself was inspired in part by an insightful, in-depth Rolling Stone article on climate change, while the novella's themes and ideas, and even two characters, were adapted and refined from my first novel. The final product ended up more poignant and thoughtful than the original short story, and the extra year spent writing it was incredibly rewarding.
Is the book in any one particular genre? Is it a genre that's familiar to you?
The Gertrude Threshold falls mostly within the genre of science fiction, although both when writing and marketing it, I never really considered it to be primarily a science-fiction novel. The story itself is compact and focused, and the novella's larger sci-fi elements tend to fade away in the individual, human interactions between the small cast of characters.
Who are your greatest writing influences?
For The Gertrude Threshold in particular, some of the books that inspired me most were Karen Thompson Walker's The Age of Miracles, David Mitchell's Cloud Atlas and Denis Johnson's Train Dreams.
What's your writing regimen? Any tips for keeping focused?
I try to write for an hour every day starting at 6 A.M. Getting up early when it's still and quiet and the day's distractions are still an hour or two from bombarding you has been essential for me. Before dawn, your mind is fresh, but not clear or critical enough to judge your writing too harshly. I will often edit my work or focus on marketing in the evening when the day calms down again.
Would you self-publish again?
Of course!
Any final words of advice for those looking to self-publish?
Similar to filming and producing an independent movie, self-publishing has the potential to become an artistic and popular platform for developing and niche authors to showcase their work. While the indie publishing industry is still in its infancy, there are already countless resources and pioneers who have laid a foundation for future indie authors. For anyone interested in publishing their own work, Guy Kawasaki and Shawn Welch's ebook APE: Author, Publisher, Entrepreneur is an absolutely essential read.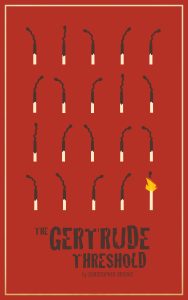 The Gertrude Threshold is Available on Amazon for $0.99.
Visit Ragged Right Media for more information.