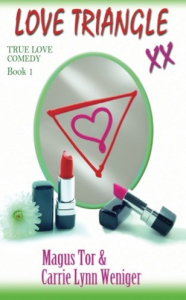 Love Triangle: XX Version by Magus Tor and Carrie Lynn Weniger is a romantic comedy with a twist. Sydney and Joe are about to graduate from college and move in together. However, Sydney is shocked when Joe decides that he can no longer tolerate Sydney's homophobia and he leaves her. Sydney is devastated.
Five years later, Sydney is still upset about losing Joe. Then she loses her job. Suddenly, Samantha Martin, the Vice President of Marketing with a cosmetic company, offers Sydney a new job the same day she was fired. Not only that, the salary is impressive and she has many perks, including a driver. Quickly Sydney realizes Samantha treats her better than the rest of the staff. Why? And why does Sydney feel close to Samantha?
Even though the first few pages show Sydney's homophobia, it doesn't mean she's not a likable character in the remaining pages. Many may find this odd since it's hard to reconcile hateful comments and feelings with likability. This is one of the strengths of Love Triangle. Many of us know and love people who have negative qualities we wish we could change. This story sets out to prove that people can do just that. It also questions what is more important in a relationship: Gender or the person? Without giving away the whopper of an ending, this is an intriguing exploration of love.
Love Triangle is a cozy romance with a hint of mystery. While there are lies and deception involved, there isn't a lot of drama aside from the very beginning and end. Instead the focus is on the character Sydney making it more than just a romance. As mentioned previously, the main character isn't likable at first. However, once the reader gets to know Sydney he or she may feel for the main character bit by bit and hopefully by the end they will be able to cheer for her. Is this the authors' motive: to show that it's best not to give up on someone and to demonstrate that with love, encouragement, and understanding an individual can become a better person?
While the ending makes the story a worthwhile read, it is a wonder why the authors spent so much time detailing Sydney and her job. Given they wanted to keep the big reveal quiet it's understandable they decided to explain Sydney's development in a different way to get the reader to cheer for her. However, some people may find all the work details a bit boring considering many readers pick up a book to forget about the hours they log in at jobs they more than likely don't enjoy. And since this is a feel-good romance, maybe a little more romance is called for.
The ease of their writing, the transformation of the main character, and the surprising twist at the end save this story and make it a worthwhile and enjoyable read. This is the type of story that will make readers think about the meaning of love and how they want to be loved.
Links
Amazon
Createspace
Goodreads
Author Site

[divider]