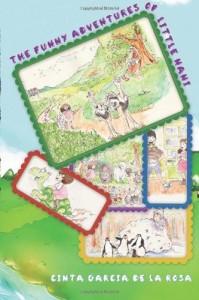 The Funny Adventures of Little Nani by Cinta García de la Rosa is a collection of short stories for children featuring the titular Little Nani, an eight-year-old girl who wants to become a great witch. Using her magic spells she tries to help everyone she comes across, making the most unlikely of friends along the way. Unfortunately, Nani never properly learned how to become a witch, having only half-read the messages of her online witch lessons, and her spells almost always go in an unsuspecting direction. The result is a unique collection of tales of "be careful what you wish for" as the young witch sees the silver lining to every situation she walks into, or walks out of, whether her new friends do or not.
The book contains ten different stories about Little Nani's daily adventures that, while connecting with recurring characters, are obviously intended as stories to be picked up at any time by children or the adults who may be reading to them. It is written in a very childish way with simple language that is generally easy to understand, which is perfect for the young children the book is intended for. However, at times sentences can be slightly disjointed, using more complex sentence construction with overly simple wording at times and answering detail that was not previously suggested at others. It seems as though the author was translating from another language and missed some subtle nuances in the process, or perhaps revised the stories without reading them aloud. Whether this was the case or not, it's a minor problem to a fluent reader, but perhaps a more jarring experience for a young reader, who may need help to understand these unusual wordings.
The stories are incredibly creative, with a very good sense of childlike imagination and how a young child's mind might view a situation and think of a solution. Nani's unassuming nature and persistent friendliness seems to get her into and out of any situation that presents itself, usually at the detriment of those she meets. Whether she's turning her friends into ostriches, turning all turtles slow or feeding a gruesome zombie coffee, she seems to fix one problem and create a whole new one, a situation she is usually satisfied with, although not always. Nani is a very chaotic character, sometimes at incredible risk and detriment to her friends – who are stuck as ostriches for the entire book – and it does feel slightly encouraged as there seems to be no lesson to learn from her mistakes. Nonetheless, in the end Nani is just a friendly young witch who tries her best, and sometimes does exactly what she means to do. Even the unwitting victims of her errors tend to find happiness in the situation in later stories, and Nani finds forgiveness. It's a harmless and generally charming tale with a silly, rogueish element that young children often adore.
Of special note is the lovely illustrations that the book contains by Almudena Romero that really help make the story's fun visuals come to life and are a very welcome addition to a book for children. It is every bit funny, creative, interesting and professional as would be expected from a publisher, and deserves particular praise. Alongside this are drawing time activities encouraging the reader to draw what they imagine a certain part of the story may look like. Every story has at least one or two of these, and may provide a great prompt to get the reader to engage with the tale.
Little Nani is a lovely, quirky little book aimed at younger children, proving successful with its audience and earning an International Readers' Favorite Award in 2014.
Author Website
Amazon
Goodreads
Barnes & Noble

[divider]