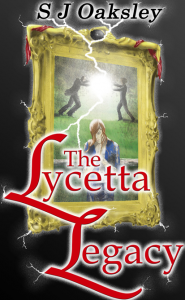 The Lycetta Legacy, Book One, by SJ Oaksley is a clever new addition to the young adult fantasy genre.
Julia Lynch is a seventeen-year-old girl who thinks she has a normal life. Like most teens her age, she hates her part-time job and enjoys spending time with her friends. Julia and her mother are really close, especially after the tragic death of Julia's father two years earlier.
One afternoon, when Julia takes a shortcut through an alleyway on her way home from work she's mugged. This event changes her life drastically. A mysterious man and his acquaintance come to her rescue and suddenly Julia discovers that she's not the typical teen. All of a sudden Julia is thrust into a world filled with magic, mystery, and danger.
Right from the start, the author puts the reader on edge by allowing the reader to listen to a conversation between Sir John Le-Beau and Felkray Distoria. This strange conversation lets the reader know that Felkray is a cold-blooded killer with special powers, but doesn't share much about how this fits into the big picture. Next the reader meets Julia who has just dreamed about the interaction between Le-Beau and Felkray. Allowing the reader to witness the meeting is a wonderful way to introduce tension and to plant a seed into the reader's mind that Julia is in for a few shocks and danger.
The young adult fantasy genre is extremely popular these days and it's difficult to create a series that feels fresh. Oaksley is successful in taking typical aspects of this genre, such as a the heroine discovering a secret about herself and her ancestors and learning that her life is in jeopardy, and adding his own twist to make the story feel new. One key aspect to the success is the main character Julia. She's a teen and acts like one, but the author avoided creating a really annoying teen that irritates many readers. She's brazen, but not the overly cocky and sullen. It's easy for readers of all ages to like and relate to her. The supporting cast is diverse and they all come alive.
One aspect that could potentially irk many readers is the overwhelming amount of writing errors. Some of the errors are slight, such as missing or misplaced punctuation marks. These types of errors can happen when creating the e-book file, but it is useful to have them corrected so they don't distract the reader. Other errors may make the reader wonder if anyone proofread the final manuscript. Here are some examples: "weather or not" instead of whether or not, "plane sight" instead of plain site, and "I am hear with one purpose" instead of I am here with one purpose. Most readers will forgive a couple of errors, but when they start to stack up some readers will forget about the actual story and will start to hunt for all the mistakes.
Considering this is the first book in the series it is crucial for the author to fix these errors. And it would be a shame if Oaksley didn't since this has the potential to be a really successful series.