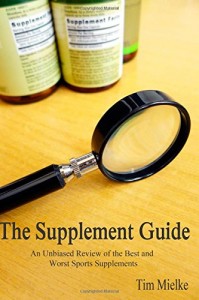 The Supplement Guide: An Unbiased Review of the Best and Worst Sports Supplements by Tim Mielke is a revised edition of a previous publication, The Book of Supplement Secrets: A Beginner's Guide to Nutritional Supplements, an insider guide to the pros and cons of the supplement industry, and the common lies bought into by consumers. The book has been rewritten, and is now around double its original size. It now includes more research, more content, and more tips and tricks to get the most out of your supplements, and how to use them in your training properly, without getting ripped off.
The guide is split into eleven chapters that succinctly address common issues in supplement consumerism, and is quite friendly to beginners as much as to advanced readers. The book rarely leaves anything but the most basic sport and fitness knowledge out of its explanations, providing a wide array of topics to cover in its 200 or so pages. In this time it dives into both the scientific side and the tried-and-tested practicalities of training, making sure to create a strong basis for its assertions and giving the reader confidence. It's well researched with a full appendix and bibliography for verifying its facts and its various handy tables and charts, and it clearly comes from an experienced background to give a personal word on what works and what doesn't. This includes many fad diet chemicals, some of which are earmarked as worryingly harmful, and yet still marketed and bought up.
The book also takes its time with a glossary to explain in rough detail the different kinds of common components and qualities of supplements before anything else, and soon moves onto cutting through the common marketing tricks of supplement companies from there. This chapter is very enlightening with some inside info on misdirections and FDA loopholes that are frequently the cause of finding a certain product "doesn't work." Moving on are the uses of these products in reference to specific training goals, such as fat loss, muscle gain, nutrition and health. It's a very comprehensive guide for a wide range of readers and will likely benefit any group of people be they actively working out or simply find themselves interested in improving their quality of life.
The layout of the guide is very clear and simple, and while not especially pretty, it does its job and makes up for the odd stray table end and misaligned photo with its sheer usefulness and thorough background. There are very few questions one could think of that are not at least touched upon in the guide, and even for those who may have picked up the original book there's a great depth of material introduced to make the upgrade worth it. Overall the guide is superbly crafted and thought out, and in the right hands it could be a ticket to a better lifestyle, either as a springboard to more research or a comprehensive field guide.