Tell us something about your book. The basics: what's it about?

Set in New York City, my McCall & Company PI series is fast and funny fiction. I've written the first two books in the series: Workman's Complication and Swollen Identity.
They're mysteries starring Kate McCall, an off-off-off-off Broadway actress whose father, a New York PI, is found dead in an insurance company elevator. Kate inherits his business (pretty much the last thing in the world she wanted) and takes her first job, a workman's compensation case—featuring a ballroom dancing con man—because her current job is walking dogs in Central Park—crap money, literally—and she needs the money. While she works that case, she sticks her nose in the middle of the multi-million dollar insurance scam her father was investigating before he was murdered.
Like Peter Graves in Mission Impossible, to help her solve both cases, Kate enlists the help of the eccentric tenants of the walk-up brownstone she lives in and manages (the House of Emotional Tics) and also calls on the crazy cast of her way-off Broadway acting troupe (the Schmidt and Parker Players).
Her son is a rising star in the New York City District Attorney's office, so when she gets arrested for murdering a medical examiner, he's not happy. The point is it's not clear if Kate will get out of jail in time to bust the insurance scam, prove who really killed the examiner (and her father), and pull off the ballroom sting of the decade.
It's funny, yes. But it's a rocking good mystery too.
The second book in the series, Swollen Identity, features demonic billionaire identical twins and Bulgarian counterfeiters. Kate is up to her neck in trouble again, and her friends are along for the fast and funny ride. She gets arrested in this book too—this time pretending to be a hooker.
They're super fun to write, and I think and hope they're super fun to read.
How did you come to self-publish? Did you try to get published traditionally?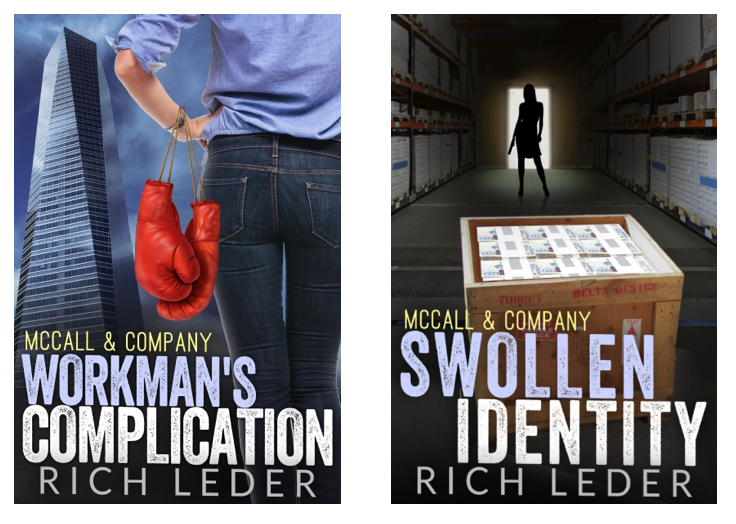 After writing movies for 15 years in Hollywood (18 produced television films for CBS, Lifetime, Hallmark), I moved east and became a novelist. (I recently guest blogged about this on SPR.) I wrote the first two books in my funny PI series, McCall & Company: Workman's Complication and McCall & Company: Swollen Identity, and went looking for a big-time New York literary agent. And I got one, so that was good. But after a year of hearing the very same rejection from traditional publishers — Hey Rich, you're really funny, and I loved the book, but funny books are hard to sell, so pass — I ran out of patience. And I got pissed off. I resented the idea that someone other than me was deciding whether or not my books were worthy of presentation to readers. Really? No one should make that decision about my book(s) but me. If I think they're worthy, then they should be out there. The readers can decide if my books are worth reading, yes, but I decide if they're worthy of presentation (publication).
So I created a self-publishing services company (Laugh Riot Press), and produced and published completely professional books that I released in September 2014.
What self-publishing service did you use? Happy with the service?
To coordinate the self-publishing process of my books, I created Laugh Riot Press, a self-publishing and personalized digital marketing services company focusing on funny books across all genres. Was I happy? Big time. Laugh Riot Press helped me create completely professional books and designed a personalized digital marketing plan to promote me and my books in multiple digital spheres. I couldn't have done it without LRP. The writing time (and rest-of-my-life time) I saved was way, way more than worth the small amount of money I paid for the services I received.
What avenues have you taken to market the book? Have you gotten reviews, interviews, TV, print media coverage?
Reviews, interviews, virtual tours, print media coverage, live appearances, year-round digital marketing and promotion. Whatever is possible in terms of time and cost is what self-pubbing writer/entrepreneurs should do to get the word out about themselves and their books. Time management is important here, however. Marketing time wins the silver medal. Writing time wins the gold.
What drove you to write this particular book?
I like murder mysteries a hell of a lot. I wrote plenty of murder mystery screenplays. It's a genre I'm good at and enjoy. And I love to laugh and make other people laugh too, so I can upon the idea that I would create a funny mystery series. How I came upon that idea is a funny mystery to me.
Who are your greatest writing influences?
Richard Ford, Donald E. Westlake, John Irving, Philip Roth, John D. MacDonald, Elmore Leonard, Stephen King, Sue Grafton, Carl Hiaasen, and on and on…can I stop now?
What's your writing regimen? Any tips for keeping focused?
Like most full-life writers — those with jobs and families who coach Little League and do Girl Scouts and volunteer at the hospital and do PTA and live full and crazy and happy lives who also write and professionally self-publish their own books — I write every day at some point for as long as I can before I have to do something else. As you probably know, it's amazing how much you can accomplish if you just do a little every day.
Would you self-publish again?
Of course. My new standalone, Let There Be Linda, will be released sometime in the middle of 2015. I just finished my first draft. It's the story of two estranged brothers living in the San Fernando Valley who bring their dead mother back to life after they've made a personal and professional mess of things. It's dark and violent and hilarious. Quentin Tarantino meets Monty Python. By the end of the year, I'll publish the third McCall & Company book. I'm good for two books a year.
Any final words of advice for those looking to self-publish?
There is absolutely no reason to wait for a traditional publishing deal. The sense of fulfillment gained by self-publishing is astonishing and took me completely by surprise. You will love self-publishing your own books. You will love it. If you need help with the process, and if you've written a funny book, check out Laugh Riot Press. "Do it now," those are my final words of advice. Ah, sorry, one more thing. "If you're writing for money, you're writing for the wrong reason." There, now I'm done.