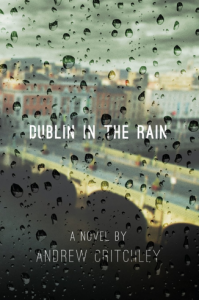 Dublin In The Rain weaves themes of love, redemption and devastation as those connected to a fatal accident in Dublin in 1947 are thrown together with sadness and romance, in this, the first book of a series by Andrew Critchley.
When Jonathan arrives in Dublin, he's anxious and solemn due to traumatizing events that have left him empty. But when he meets the somewhat magical Maoliosa, the hotel barmaid who mysteriously guesses his name and wins his affections, he wonders if he's found happiness. But Jonathan will have to go back to his childhood to work through the past if he is to find his path.
Dublin in the Rain is an erotic romance, unusually written by a man, which does of course add a different element to proceedings. However, the scenes therefore have something of a raw element, and lose something of the gentler detail that possesses female writing.
The proofreading of the book could have been much tighter, as there are a few grammatical quirks that would be better undone, but the book as a whole is very well-presented, with a beautiful literary-style cover and a good font.
The writing itself is in need of being worked much deeper: maybe Critchley could reach more profoundly into himself for some of the emotional narration, as it seems within his grasp as he is obviously harboring a talent for storytelling. For instance, his childhood memories, which go on for a good portion of the first act, are not particularly engaging, and some may wonder why some of the detail was so necessary, if at all. There is something of a missed opportunity with the story's outset, in that it seems unnecessary to hold the reader hostage to the prologue, only to uncover that the event is generations back and not attached to the present as one would think: Why does the event have to be in Jonathan's father's past, and not his? Given that Jonathan's past is once removed from what the author hopes is the vehicle for his plot, it would have been rather more defined had it been Jonathan's childhood and not his father's that influences the storyline.
It would also be to Critchley's advantage to work on character voice. Many characters seem to have the same personality, and don't seem to relate to each other in anything but a surface kind of way. This is a shame, because Jonathan is pretty much spot on as a personality, whereas others flail with perfunctory reactions. A somewhat gummy coincidence with one of Jonathan's friends  turns out to be so corny it feels like something straight out of a soap opera. It seems unnecessary to use such a ploy to tidy up ends where others remain loose, and all the better for it.
Dublin in the Rain is written with some poetic imagery, and plays on rounds: An image of Ireland's damp and windy city viewed even darker by a man for whom happiness seems daunting and unreal, and maybe even more so in such a place as Dublin, is held as a symbol for the lives of those around him. The reader will find themselves wishing for more for Jonathan, and Critchley keeps both his story and its characters scarred and damaged in a way that doesn't necessarily heal by the close of the novel.
If you're looking for a haunting tale to gently pull your heartstrings by a wintry fireplace, Dublin in the Rain will give you an undemanding and sexy read. The joy, of course, with reading the first book of a series is knowing there's more to come, and secure in that knowledge that Critchley intends to roll out two more novels of the same tone means readers can look forward to more melancholia and romance in his following works, but what I hope for in following works from this writer would be more focus and polish on character and plot to really make this set of books stand out from the crowd.