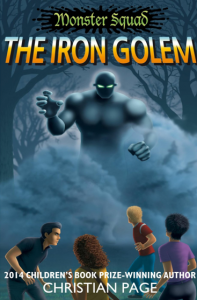 The Iron Golem by Christian Page is the first book in the Monster Squad series, an adventure tale of vintage superpowers for the children and young adult audience.
When Blaine Davis and her friends return from summer break for their seventh grade school year, they have no reason to suspect it will be anything more than a typical, homework filled bore.  Little do they know, however, that the evil Dr. Victor von Frankenstein is searching ceaselessly for heirs of extraordinary powers, and he will stop at nothing to find them.  His diabolical minions are converging on the quiet town of Autumn's Hallow, and there are rumors of a monster lurking in the woods… It will fall to Blaine, Shelley, Dash, and Kevin to not only discover and harness fantastic powers, but also thwart Frankenstein's sinister plots along the way.
The first thing that is noticeable about The Iron Golem is the obvious effort that went into its design.  The cover, website, trailer, and description are all professional grade, and it is refreshing to see the obvious care and effort that went into the look of the finished product.  They say not to judge a book by its cover, but how often is it that the trappings surrounding a story don't affect our decision to pick it up?  Like it or not, presentation is important, and Page has clearly realized this.
As for the writing itself, Page presents a plot that is action-packed, humorous, and exciting, if a bit aimless.  The description is solid and immersive, and Page's use of character jumping is effective in driving the story along and keeping the events fresh, as are the frequent leaps back in time to reveal backstory.  Page slips in nods to various heroes, villains, and monsters from classic tales (Bram Stoker's Dracula, Mary Shelley's Frankenstein, H.G. Wells' The Invisible Man, etc.), which adds a fun 'catch the reference' element, though these are liberal interpretations that often wildly differentiate from the original.
The dialogue was in some cases well-written and in others dissatisfactory.  Page employs a plethora of humorous quips that are equal part nods to Star Wars and other geek goldmines that satisfy the nerd crowd (like myself) and pop culture wisecracks.  But at other times, the dialogue comes off strangely stiff and unnatural – a problem that is intensified by confusing sentence-ending punctuation marks.  For example, in the following excerpt the question mark after 'ghost' would work more effectively as an exclamation mark.
Ex.:  "No.  Are you okay?  You look like you've seen a ghost?"
End mark errors of this kind crop up sporadically throughout the book, often jarring the reader out of the story.  The preteen dialogue, which makes up a large portion of the novel, is also often a bit too abnormally suave and witty to be believable.  There are instances of confusing sentence structure sprinkled throughout the book as well, mostly in the way of comma omissions that create some misunderstanding.
In summary, in spite of some missteps, The Iron Golem is a fun read for the young adult crowd, and fans of Percy Jackson will no doubt enjoy giving it a try.  What's not to like about mad scientists, preteen superpowers, and alien conspiracies?