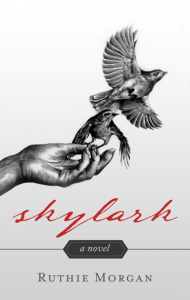 Skylark, by Ruthie Morgan, is an intense, haunting, and beautiful story about love, life, and loss.
One stormy night in London, Billie May Worthington meets Evan Skylark, an Irish artist. The no-nonsense young woman falls for the brooding artist quickly and hard, shocking those who know her best. At first everything seems perfect. Yet, Billie soon learns that Evan's artistic brilliance has a dark side. A mistake haunts Evan and forces the young couple to retreat from their dream lives in Paris. When Billie finds out she's pregnant, she has to forego her own dreams and follows Evan to St. Cloud, a small island in the South Pacific.
Can the couple survive parenthood, Evan's dark side, and his mistake that cost him his job and reputation in Paris?
This novel, while it comes together seamlessly, has several undercurrents to keep the reader engaged. It starts with the whirlwind romance between Billie and Evan. At first everything seems like a fairytale. They meet, fall madly in love, and then move to Paris. How exciting. Yet, not everything is as it seems. Evan has inner demons and Billie only sees glimpses early on.
From the opening pages, the reader is clued into the fact that Evan is flawed. Starting the book this way, and then going back in time to the beginning lays just enough groundwork for the reader to feel for Evan and not to judge him too harshly, even though, he's a difficult character to like at times. Mental illness is never an easy subject to tackle and Morgan handles it well. She shows the good and bad, and yet she never judges and never strips Evan of his dignity. She's sympathetic to his plight, while staying true to all the characters. It would have been easy for Morgan to vilify Evan, but that would be dishonest since Evan isn't a bad person. He has a debilitating illness. Instead she wrote from the heart and showed how devastating the illness can be for not only the person, but for the people who love him. It's frightening and exhausting for all involved. More importantly, it's tragic.
The author pulls the reader into a captivating story, which starts off with so much hope, but then the reader is plunged into the gritty realities of Billie's and Evan's lives, just like the flight of the Skylark. They soar into the sky and then plummet to the ocean, and right before, they head back towards the sky. The reader has the uneasy feeling the entire time, that Billie and Evan may not pull up after one of the plunges. This anticipation makes this book nearly impossible to set down. As much as the reader wants everybody to have a happy ending, they can't shake the sense of dread.
Ruthie Morgan's first novel proves that she is here to stay.  She writes from the heart and isn't afraid to show the reality of life and love. This is a gripping romance that will enchant and shock readers.
[divider]