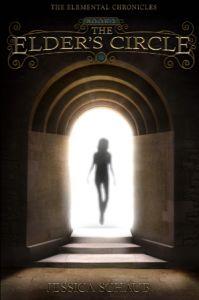 Picking up right where Gateways, Book I of The Elemental Chronicles left off, Victoria believes that she'll be home tomorrow. After all, she defeated Ona, the mage who killed her father, and essentially saved the world. Or did she?
The Elder's Circle is the second book in the series by Christian fantasy author Jessica Schaub. Victoria is a Painter, and can paint anything into existence. But she's been forced to open a dangerous Earth Gateway, and now the powerful and evil mage Ona is missing. In this installment, the story follows Ona's followers while they attempt to find her.  Meanwhile, Elder Parnassus has been stripped of his title and now Sphinx City is suffering the symptoms of a Biblical end times: rivers of blood, plagues of frogs, clouds of  flies — plus an uneasy atmosphere — that threaten the City's core. Faith is the one thing that can hold everything together, but now even that is in danger. Will Parnassus be able to get Victoria's help in time?
As a second book, it's essential to read Gateways before you pick up The Elder's Circle in order to grasp all the concepts and characters with Victoria, Bobby and Tucker taking the main roles. The Chronicles inhabit a very rich and detailed universe filled with beautiful and poetic writing. With echoes of The Hunger Games and more fairytale-like stories such as The Magic Brush, the books weave Christian fiction ideals with adventure and magic for young adults.
Watch the trailer for the first book, Gateways here:

Links
Author Site
Author Blog