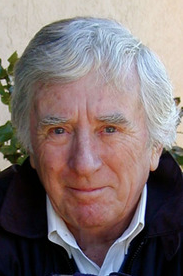 Anthony Eglin was a much-loved traditionally published author in the 'cozy mystery' genre, before venturing into self-publishing with The Alcatraz Rose. Here, he talks about his self-publishing experience.
Tell us something about your book.
The Alcatraz Rose is composed of three disparate mysteries that, in the beginning, appear to Lawrence Kingston, retired professor of botany and sometime sleuth, to be completely unrelated.
To begin, a thirteen-year-old child begs him to re-investigate the disappearance of her mother, a cold case closed eight years prior. A second mystery presents itself in the form of a rare and extinct rose that shows up growing on Alcatraz Island, 5,000 miles from its former home in Britain. Soon, Kingston is faced with yet another conundrum when he stumbles on the murder of an elderly gentlemen. Digging deeper, he discovers that the recluse not only knew of the rose but might also have had a hand in its transatlantic voyage
Using his innate powers of deductive reasoning, applied logic and scratching for fragments of clues with methodical persistence, the pieces of the respective puzzles gradually fall into place to reveal a shocking discovery: a possible connection to one of Britain's most notorious crimes of the past.
No longer the hunter, Kingston now finds himself the target of unknown criminals bent on stopping him from exposing the truth. The twists and turns of the plot become far more suspenseful and heart pounding when he is captured by his enemies and locked up in a country house, awaiting his fate. He now realizes that he might never leave alive.
How did you come to self-publish?
After twelve years, and five books published by St. Martin's Press, they passed on The Alcatraz Rose as being too much of a shift away from the 'cozy' genre. The decision was not unanticipated and, in some ways, came as a relief. In writing the story, I had purposely tried to stretch myself and test the limits of how I could improve and develop the Kingston series, to get out of mid-list into mainstream crime fiction.
For a while I considered searching for a new publisher but on weighing all the variables, I decided that the only way I would be completely liberated; to further improve and develop the series; to make them more exciting, and to breathe new life into the characters, was to self publish.
There's no question whatsoever in mind now that I made the right decision. Reader and editorial reviews have proven that Kingston is not only alive and well, but more loved than ever.
What self-publishing service did you use?
I used CreateSpace and, for me, that turned out to be another prudent decision. From start to finish the process was superbly organized, flawless and user friendly.
What impressed me as much as anything about their comprehensive publishing program was the way that they followed through on every single step of what can be a challenging and complex process. A problem? A question? There was always a knowledgeable and friendly person in the wings to solve the problem, instantly on the phone, or by e-mail that day.
What avenues have you taken to market your book?
Initially, I revamped my website (anthonyeglin.com), developed a Facebook page and created a 40 second trailer through Book Candy Studios. The video has proven to be exceptionally well received and I've subsequently found many uses for it.
I also campaigned to get reviews that I could use in promotional materials and PR.
I got favorable responses from several professional review sites, including Self Publishing Review, Blue Ink, Publisher's Weekly Select and Midwest Book Review. I also contacted a dozen or more mystery book websites, most of whom either reviewed my book or featured it on their site.  Not to be overlooked are the hundreds of book blog sites, some of which are eager to feature new books. I am still reaching out to them on a regular basis, after having received several excellent reviews. The great thing about all of the above is that frequently the reviewers will post their reviews on other book-related websites and on Amazon.
Since my books also have a garden thread, I promote to garden-related publications and editors of Home & Garden magazines and sections of national newspapers.  This is where, in the past, I have received lengthy stories about my books and career. To reach this market I developed a sophisticated e-mail promotional letter (using icontact E-mail Marketing and Design) that not only promotes the book and solicits reviews but also has links to my trailer, website and a direct e-mail response link.
What drove you to this particular book?
The idea of combining fact with fiction, which I've done before, appeals to me and this story presented an ideal opportunity. I was looking for ways to energize the series, adding more mystery and suspense without losing the strong 'garden' identity to which readers expect and appreciate in my stories. The idea of having Alcatraz as a backdrop gave the book instant recognition and recall, too.
Is the book in any one genre?
The genre is commonly referred to as cozy mystery but to me that has always been a misleading and inappropriate label. I believe it is used to suggest stories that rely on the use of intelligence and the ability of the fictional detective to solve crimes by using his or her powers of deductive reasoning, as opposed hard-boiled crime fiction that customarily relies more on action, and blood and gore as the plot driver. It's odd that the Sherlock Holmes mysteries were never referred to as 'cozy.' One of my most recent reviews referred to The Alcatraz Rose as a "thinking person's mystery." That's a description to surely please any author.
Who are your greatest writing influences?
If anything, I tend to read mystery and adventure fiction and non-fiction book related to garden subjects. Of the many fiction writers whose books I've read ¾ both classic and contemporary ¾ my favorites, not in any order are Robert Goddard, William Boyd, Michael Crichton, Frederick Forsyth, Colin Dexter and Sir Arthur Conan Doyle. For light reading I've read just about all of Bill Bryson's stories.
What is your writing regimen?
In a regular job, if you don't go to work every day, you don't get paid. I look upon writing much the same way. With the obvious exceptions, I write every day, sometimes on weekends. I try to start before 8:30 in the morning and work straight through to noon. In the afternoon, I either continue writing or read and edit whatever I've completed that day. I usually quit around 4 pm to head for the garden.
I don't set myself goals, such as how many words to write per day etc. That's not important to me, as long as what I write is moving the story forward and keeping characters and dialog authentic and not author-driven. I believe it's a mistake to force yourself to write¾or doing anything, for that matter. That when mistakes happen and you're not at your best. Whenever I'm in the middle of a story, I'm always thinking about it, no matter where I am. Sometimes great ideas pop into the mind at the most unexpected of times.
Would you self publish again?
I certainly would. After having had five books published by St. Martin's Press, it was only natural that such a dramatic change would raise questions and doubts. Those were quickly allayed once I started working with CreateSpace. Coming from an advertising and marketing background I had an edge when it came to design but, as I mentioned earlier, for all the other critical and intricate steps, they made it so effortless.
Any final words of advice on self-publishing?
Today's writers are extremely fortunate to have such a vast array of tools and help so readily available, not only to get their books beautifully designed and printed but also to benefit from the advantages of wider distribution, which, for years, was the self-published author's stumbling block to expanded readership. Nowadays, so much excellent advice and how-to information is available on the Internet that anything I could add on the subject would be superfluous. My only advice is to go for it. Once you start on the journey, you'll find many able and talented hands reaching out to help and to make it a fun and rewarding experience.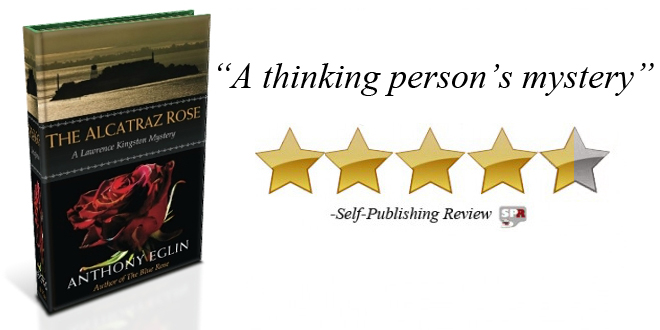 The Alcatraz Rose Review on SPR
Author Site