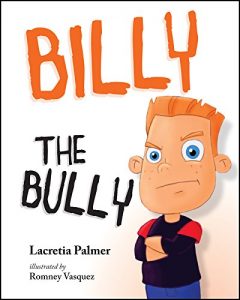 Billy the Bully is a short informational picture book for younger children by Lacretia Palmer, and illustrated by Romney Vasquez, centering on the issue of bullying and its effect on children's nutrition.
Billy the Bully takes an honest and interesting stance on the topic of bullying, where the main character Billy is shown as just a regular kid whose bad habits change when he sees his brother affected by the very same behavior he had been inflicting at lunch-time. Billy decides on a way to make up his actions, and after admitting to his parents what he had been doing, they all pitch in to give back to the kids who might have gone hungry.
The book is simple and accessible, yet tackles the complexity of bullying and a pool of relatable characters who react to it, Billy included, who is not demonized like most children's books might want to do.
The artwork is very clean and colorful and is certain to catch the eyes and interests of its intended audience, and at just under 40 pages the message stands clear without being bland. Overall the book is an excellent anti-bullying aid and a fun read for younger readers to get smart on the subject without being talked down to.