Today, BookBaby sent out a press release about its new POD option to go toe to toe with Createspace and Ingram Spark. Previously, BookBaby only offered print run publishing, which in this day and age doesn't make sense for most self-publishers who are unaware of a book's demand before it's published, especially since the cost per book for a print run is twice that of print on demand. See BookBaby's pricing tool for print run books here. The cost for POD set-up is $199.
Here's the royalty breakdown for a standard 6×9 book. See ALLi's Watchdog post for how this breaks down royalty-wise. Basically, it falls in between Createspace and Ingram Spark, so it's a competitive rate.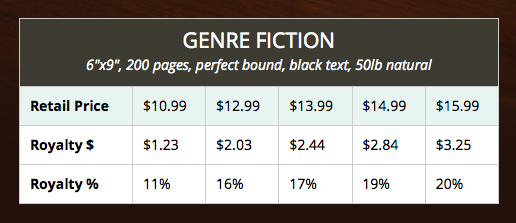 Combined with BookBaby's ebook distribution package, this is a pretty cost-effective one-two punch for print and ebook distribution: a combined total of $498. That's obviously more expensive than free options offered by Createspace and Smashwords, but it's well cheaper than vanity press publishing packages, while keeping a greater share of the royalties.
Verdict: a solid offering from BookBaby, making it a good bet for self-publishers who want a service to take care of the publishing process.
Here's the full press release:
BookBaby, the self-publishing powerhouse, announces a game-changing on-demand book printing and distribution service that gives authors and publishers the chance to sell their printed books in dozens of stores and catalogs, including Amazon, Barnes & Noble, and Powell's, as well as the complete Ingram and Baker & Taylor networks. Combined with BookBaby's popular eBook distribution services, self-published authors can now place their books in over 100+ online stores and catalogs around the globe.

Print On Demand (POD) allows authors to sell printed books worldwide without paying for large print runs, inventory and warehousing issues, or handling their own order fulfillment. Books are printed and shipped to customers as needed — and because BookBaby's POD service comes paired with global distribution, sales can come from almost anywhere in the world.

"This is different from any other Print On Demand program out on the marketplace," said Steven Spatz, BookBaby President. "Not only do we offer the most robust book distribution network in the business, we also deliver the highest-quality custom printed books and back that up with a 100% satisfaction guarantee."

"Self-published authors need all the exposure they can get for their books. They deserve to have a place on book store shelves around the world, and our program delivers the maximum exposure through retail stores and wholesale catalogs."

Unlike other Print On Demand providers, BookBaby uses the very same digital printing presses for their POD books as they do for their larger print runs. "Let's be honest," says Spatz. "The print quality for books printed on demand can be spotty. It's a problem for authors and publishers who get books printed for local sales and also get on-demand printing for global reach because all-too-frequently the book quality differs between the commercially printed books and the POD version. This has been an ongoing problem in the industry for years. BookBaby has changed that. Every single book we print is of the highest-quality in the industry. An author's first book will be identical to their 1,000th."

BookBaby's Print On Demand service allows authors to concentrate on the essentials of self-publishing success — writing and promotion — and leaves all the manufacturing, book distribution, and shipping work entirely up to BookBaby. Whenever a POD client's book is purchased in a store, online, or ordered by a wholesaler such as Ingram or Baker & Taylor, BookBaby will print, bind, and ship it within five days.

"Beautifully printed books, true global reach, low upfront cost, one-time sign up, and sell forever– that's our on-demand printing service in a nutshell," says Spatz. "When you add that to our strong eBook program, it means we're serving 100% of an author's go-to market needs like no one else in the industry."

"For the first time ever, self-published authors can truly be everywhere they need to be, in all formats, in all the important places, with hand crafted quality books they can be proud of."

With offices in Portland, Oregon and the Philadelphia area, BookBaby is the sister company to CD Baby, the world's largest online distributor of independent music. BookBaby offers complete ePublishing and printing services to independent authors.