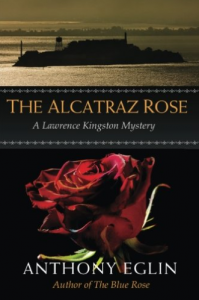 The Alcatraz Rose: A Lawrence Kingston Mystery by Anthony Eglin is a cozy mystery that sticks with the reader well after finishing.
When Lawrence Kingston is approached by a thirteen-year-old child, who wants him to look into her mother's disappearance, he has no idea what he's about to get into. The case has been unsolved for eight years. Then another mystery falls into his lap when he learns that an English rose thought to be extinct has been sighted on Alcatraz Island. How did the rose travel 5,000 miles and end up outside one of America's most notorious prisons?
During his search, Kingston stumbles upon a murder of an older gentleman. The amateur sleuth suspects that the older recluse knew about the rose and when he learns of his murder he starts to dig deeper. What he finds is shocking. Could there be a connection to one of Britain's most infamous crimes? And if so, how much danger is Kingston in?
The mystery, or mysteries, in this novel unravel slowly. The author isn't rushed to get from point A to point B. Instead, he takes the time to craft a story that is methodical, thoughtful, and ripping good fun. Not many could juggle three random mysteries that seem completely unrelated on the surface and not only connect them all seamlessly, but to do so in such an entertaining way. Clues are dropped here and there. Many of them aren't obvious, adding to the fun. It's like constructing a jigsaw puzzle, one word at a time.
Lawrence Kingston is a fascinating character and he's just as multilayered as the story. As the reader gets to know him, they also become acquainted with England through his eyes. The meals he eats, the places he visits, and the people he knows and meets along the way. It all fits together, pulling the reader into the story, the setting, and into the lives of the characters. This connection propels the reader to continue with the puzzle, even when it seems too enigmatic, since there's always this sense that the author is not leading one down too many wrong paths.
There are plenty of twists and turns to keep the reader engaged, as long as the reader is patient. This isn't the typical page-turner with lots of action and drama. The Alcatraz Rose is a thinking person's mystery. Elgin doesn't resort to flashy words or trumped up action to keep your interest. He relies on his wit, strong character development, and an intriguing setting. Furthermore all the fun facts about roses, history, England, and other random facts, such as a cycad, are wonderful extras that add to the story without becoming distractions. It's not like the author is trying to show how smart he is. Most of these tidbits factor into the story, showing how well he constructed his story. The plotting is right on.
This mystery is imaginative, filled with wonderful characters, and proves that authors don't have to rely on attention-grabbing scenes to keep readers engaged. Bravo Anthony Eglin.