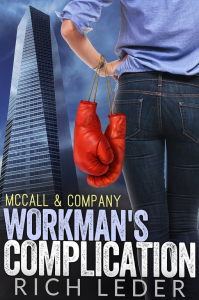 Workman's Complication by Rich Leder is the immensely entertaining first book in his series McCall & Company, following the exploits of down-on-her-luck private investigator/struggling actress Kate McCall. In the first installment, McCall tries to balance starring in an Off-Broadway vampire musical, investigating her father's death at the Monument Insurance building, inheriting his PI business, and trying to solve her first case: a workman's comp case where a construction worker broke his back and might be taking a benevolent old businessman for all his money.
Kate McCall is a great character for a private eye series: she's a reluctant PI, but not too reluctant. Really, she was born for this. The set-up is a bit like the Fletch novels, in that she can use her acting skills, and wardrobe, to impersonate people and interrogate suspects. Given that she's an Off-Broadway actress, these disguises don't always work, but they're always entertaining.
Writing a first-person female protagonist is a tough balance for Leder to handle, and her voice is deft and impressive. Kate McCall is both hardboiled and vulnerable. A pet peeve of mine is a protagonist who fights the premise of the story. Obviously we know that McCall is going to get into the PI game or else there wouldn't be a book. Leder doesn't overuse this device, and instead uses it to color in his character's desires and skills. The fact that she's a reluctant PI is core to what makes Kate McCall such a unique presence on the page. We want her to succeed in whatever she does, whether it's solving her father's murder or belting out a vampire love song.
Filling out the novel are a large assortment of eccentric characters in her apartment building and the people she meets on the case. Yet they're not impossibly eccentric. Comedy works when there's an element of truth to it. Make it too absurdist and it could lose some of its comedy bite. That's not an issue here: characters are oddballs, one and all, but they're absolutely realistic, not pawns in a comedic foil.
Though this book is put out on Leder's own Laugh Riot Press, which promises "Funny Books," Workman's Complication isn't an all-out comedy. It's on the funny side of hardboiled, for sure, but it's not a book full of punchlines. It is hugely entertaining and colorfully written, but the book definitely has the flavor of a detective novel rather than a story brimming with comedic hijinks. You'll laugh, but you'll also be racing through the book to see how she solves the case and what demented character she meets next. The novel is more of a black comedy that manages also to be suspenseful. It is, after all, a mystery, and Leder masterfully juggles all of these different elements. There's a new surprise on virtually every page.
In the seven years I've been reading and reviewing books for SPR, I'd put Workman's Complication in the top five. There is absolutely nothing suggesting this work is self-published. "Page turning" might be overused, but I couldn't wait to get back to this book when I put it down. It's funny, exciting, insightful, and inventive: the kind of book where you forget you're reading. Get this one.
Links
Author Website
Amazon
Facebook
Twitter
Pinterest
Goodreads
[divider]