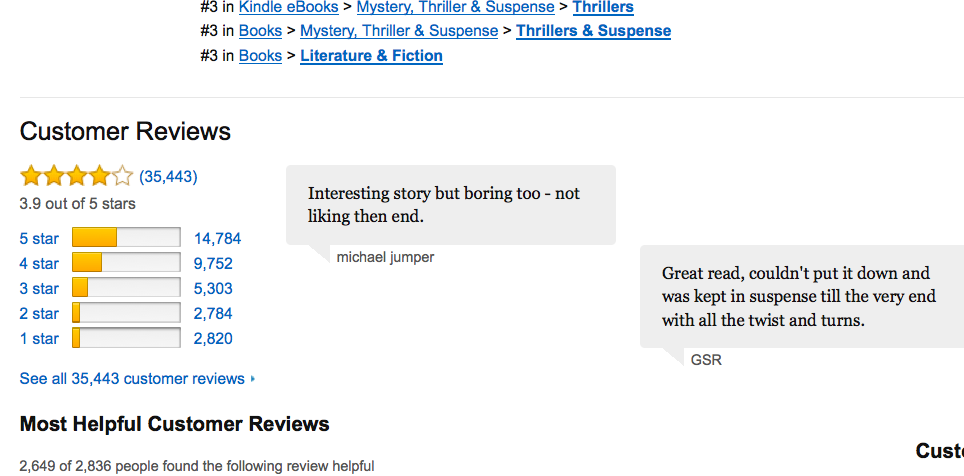 As the owner and editor of Self-Publishing Review, I deal with hundreds of self-published and indie books every year. People ask me, "How do I get a good review?" Apart from actually writing a good book (snort) there are a few other things you can do to make sure you get your readers to invest and feel they can sing your praises on Amazon, Goodreads or Barnes and Noble.
1. Get a professional edit for your manuscript. This is 101 stuff, but still I see authors saying they are doing it themselves, or have let it loose on a friend. This is never, ever enough. Editing and proofreading can be acquired for as little as $1 a page, and should be considered part of the publishing process, and not a luxury.
2. Get a really good book cover. In other words, pay someone to do it. Not someone you know, but a professional book cover company. At SPR, we like CreativIndie Book Covers and 99 Designs, but there are many more.
3. Design and format the inside of your book too. If your fonts are ugly, or your spacing is off, readers will quickly turn into active haters and leave bad reviews driving your stars down. Also, Amazon states in their T's and C's that badly-formatted books may be penalized. Joel Friedlander is undoubtedly the authority on book layouts for self-publishers, and offers templates to get started.
4. Make sure your title matches your book content. There's nothing worse than buying a book that you think is about one thing, that then turns out to be something else. If your title doesn't properly suggest your book's subject, maybe you should add a subtitle to give readers a better idea.
5. Make sure you choose relevant genre categories. Don't try to game buyers into purchasing your book by slotting it into irrelevant categories. If a reader is caught off-balance with the content you could get a bad review. By being transparent about your themes you will give buyers confidence in your book. This article from ALLi by David Gaughran may give you a start.
6. Don't tell the reader how to read your book. Don't add a long introduction or preface telling the reader how the book is a certain genre mash-up, or how it isn't really how you want it because you haven't written a book before. I've even seen one introduction apologizing if the book is tedious! Let readers read the book! If you really feel you have something to apologize for, you'd best go back and edit your book before publication, hadn't you?
7. Test your book out on reviewers first. By sending out a few pre-publication copies to volunteer readers, you can gauge what sort of issues readers might criticize. This may inform a re-edit, or re-think about genre. You can find Beta Reader groups on Goodreads and Linkedin, and can do swapsies with other authors on Facebook groups. Be open to criticism: Better now than on Customer Reviews online.
8. Don't publish before you are finished – properly finished. Is your book really good enough to be seen by potentially millions of people? If there are even a few errors in the script, plotholes you never resolved, or a character that just isn't round enough, you're heading towards bad review territory. A well-polished book will evoke effort and professionalism, and you should get a few stars lining up.
9. Present your book with a relevant "blurb" and author bio on sales pages. If your synopsis and author bio are badly written, readers can become confused about your book and feel less inclined to be nice about your work. Make sure any publicity you have is professional, well-written and describes the book succinctly. This will attract the right readers for your work, and inspire good reviews.
10. People are sheep – lead the opinion. A really great way of attracting good reviews is by getting some solid editorial reviews on your Amazon Author Central page, and your website, ahead of the book launch. These are the kinds of reviews we offer at SPR, but also Kirkus Indie, BlueInk and Indiereader offer these as well. Getting positive pullquotes in your Editorial Reviews box is bound to lead Customer Reviewers in the right direction. Why? It's a funny thing, but humans like to be liked, so following the tide of opinion is the usual way it goes. Pick really memorable pullquotes of a couple of lines, and remember to mention how many stars your book got.