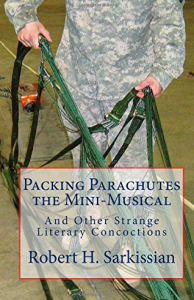 Humor is hard. Pathos is much easier. Show a character being chased by a monster, and if you're good at your craft, readers will sweat and squirm. Show poor orphaned children dying of hunger, and you may draw tears from your readers even if you aren't that good. But make a joke, and who knows? A sense of humor is like taste in food. What appeals to one person might repulse another. How do you feel about fried chicken livers? See what I mean? So I always admire an author who writes humor, especially the kind of humor that you'll find in Packing Parachutes: The Mini Musical and Other Strange Literary Concoctions.
This small book is a collection of gags or comedy sketches, almost like skits on paper. It reminded me of George Carlin's books, jumping from one form to another, a list here, a rant there. In this little book, you'll find a rant on celebrities who can't remember the words to the national anthem; several "quickie novels"; news headlines ("Department of Native Soil Security Expands Terror Watchlists to Include All Carbon Life Forms" and "Politician Pushes for More Vowels in the English Language"); and various articles by "Studley," a flamboyant entertainment reporter, movie reviewer, syndicated columnist, and political/cultural commentator and self-described cross-dressing epicurean.
So did Sarkissian pull it off? Well, I laughed so hard I snorted fluids onto my Kindle screen. I also rolled my eyes a time or two, groaned occasionally, and once or twice I even yawned and clicked through the pages a little faster than is fair when you're reviewing a book. That is to say, I liked parts of it a lot, and some parts not so much. Actually I think there is probably something for everybody in here. Well, maybe not everybody. Let me be perfectly clear: this book is extremely weird. Some of my favorite bits include an interview with the little green guys who are in charge of turning on the light in your refrigerator when you open the door, and doing this very quickly so that you don't see them. Just the premise of this one had me in stitches (I'm not sure I'll ever again be able to open a refrigerator without trying to catching the little guys). Sarkissian took the idea and ran with it, though. One of the little green guys holds forth on topics philosophical, and then . . . well, I won't ruin it for you. Other bits include an interview with the testicles of Ivan the Terrible, a review of The Maltese Falcon (another one of my favorites), and an almost sweet little riff (by Studley), on zombie parades.
As with a lot of humor, there are a few things that might make your PC side cringe, and once or twice Studley goes on rants that I found tiresome, but the sections are mostly short, and Sarkissian keeps you moving along so that the humor is somewhat like they say about the weather, if you don't like it, just wait, it will change. If you're not laughing on one page, you're almost sure to be in a page or two. My least favorite section of the book was the title section, Packing Parachutes: The Mini Musical. It went on a bit too long and didn't really do much for me. But hey, that might be your favorite part. Chicken livers, right?
The book is smoothly written and well presented. Your laughs won't be ruined by poor grammar and formatting issues. If you are in the mood for some off-the-wall humor, you really should give this one a try.