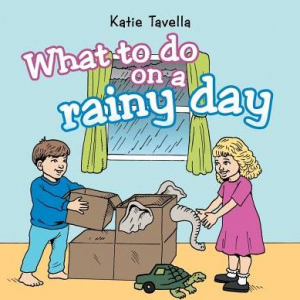 What to Do on a Rainy Day by Katie Tavella is a charming children's book about how kids can use their imaginations when it rains. Two kids trudge to the basement on a rainy day and imagine the cardboard boxes, chairs and other items are safari animals. First the kids imagine the box is a cave, with a bear inside, and their imaginations explode from there. In engaging rhyming prose, the kids realize there's a whole lot to do even when there isn't a lot to do outside.
In the age of smartphones and endless TV, it's a good reminder for kids that you don't need high tech to be entertained. The illustrations really come alive in the panels where the different items morph into animals: a set of golf clubs into a snake, boxes into an elephant, a tricycle into a lion cub, a chair into a zebra and more. The lion cub is the most expressive and kids will get a kick out of it: half lion/half tricycle.
If there's a criticism of the illustrations is that they're a bit old fashioned. In a book that's about how old fashioned playtime is a good bet for kids, perhaps this choice makes sense. But in a book that's about sparking the imagination, the illustrations could have been a bit more imaginative as well. Think Eric Carle who sparks wild imagination with very few words. Maybe if the illustrations used found objects like the kids do in the book it would spark imaginations even further.
That criticism aside, it's a delightful book with a great message. This sense of imagination is being lost at a younger and younger age. Why use your mind when flashing cartoons can do all the work for you? In the end, there's a nice message about sharing imagination time with parents as well, so it's a message to parents as well as to kids. The message is: ask your parents to play next time. The message might be more effective for parents to put down their work and use their imaginations too, and not be steeped in work all the time.
Tavella is a fine writer for children: the rhyming cadence works well and the writing is never too simplistic, or repetitive. It is not too strict so some rhyming words aren't too direct (rhyming "work" and "short," to take one example). This looseness actually serves the story well, as it is about freeing your mind from constraints. Rhyming books can, at times, seem somewhat rigid and formulaic. That is never a problem in What to Do on a Rainy Day.
Overall, this is a fun, spirited book with a fine message for children. Kids will want to read this book again and again, and parents will want to dip back into the book as well, because what parent hasn't experienced kids climbing the walls on a rainy day? After reading this book, kids may just take the message to heart and look at the world a little differently.
Links
Amazon
Barnes & Noble
Goodreads

[divider]