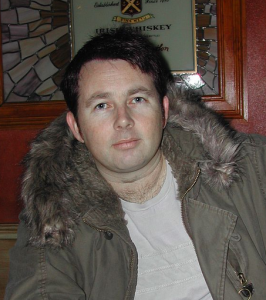 Mark Lingane is a commercial writer specializing in reports, enabling him to travel the world. He is also a Sci-Fi writer, with his latest Noir mash-up Sucker a #1 Best Seller on Amazon.
Tell us something about your book. The basics: what's it about?
Well, it's about this guy, see, who thinks he just this average joe, a good looking PI who barely gets by from case to case. One day he gets a call about a missing person from a bombshell of a dame. They meet, but he only sees trouble so he declines the case. After that everything goes bad. He ends up involved in all these bizarre sacrifices by some disturbing group (part-mob part-S&M death cult) and finds out nothing is what it seems, including himself. All set to a hot jazz soundtrack.
How did you come to self-publish? Did you try to get published traditionally?
Not really. I sent off a couple of letters over a decade, but they were so slow to respond it felt ridiculous. And when your writing life is based around deadlines and delivery, the concept of someone getting back to you (if they do) seems at odds with my profession. I will try again once I have a new series ready to go.
What self-publishing service did you use? Happy with the service?
I have set myself up as a micropublisher. I contract out editing, cover design, and proofreading. I do everything else.  I will shortly be offering my own book composition skills for print and ebooks.
What avenues have you taken to market the book? Have you gotten reviews, interviews, TV, print media coverage?
This is the first year I've tried actual marketing. I've been to several conventions and had good results (probably the best) from them. I have some print ads coming up in April associated with some relevant conventions. I'll let you know how they go afterwards.
What drove you to write this particular book?
A couple of things, but the starting point was inspiration from listening to music (Love Trilogy by Gare Du Nord). I've been wanting to write something about vampires and the animalistic side of them for some time. I also have experienced people who present a particular "victim" face to the world to get sympathy, but are really being manipulative for their own benefit. I wanted that kind of character, someone who you keep changing your mind about. Those were the basic elements, then I built the ideas from my Judaeo-Christian research on top.
Is the book in any one particular genre? Is it a genre that's familiar to you?
It is part hardboiled detective Noir, part paranormal horror and part black comedy. The first book I wrote was similar in style, but I have learnt a lot since then. I've been called a genre-buster and, apparently, mashing together styles that normally don't go together, but I think you've got to go with the flow of your story. No rules! My philosophy is to try them all and see what you are good at. Probably not all in one book, though.
Who are your greatest writing influences?
It's hard to pick. It depends on what I am writing at the time. As Sucker is a detective noir novel it is heavily influenced by Raymond Chandler. I like to dream that at the base of all my writing I am influenced by Douglas Adams, but the reality is after nine novels and decades writing press/PR/whitepapers I'm probably just me.
What's your writing regimen? Any tips for keeping focused?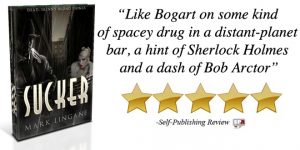 No real routine. When I get the ideas lined up and the structure in place, I just go for it until it is done. Normally I will take 4-6 weeks in the actual writing phase. My first drafts are complete, and I edit as I go. I usually write the end, then the beginning then flow between the main plot points. I'll scan through it once more making sure it adds up and I haven't forgotten anything, then send it off to the editor.
Would you self-publish again?
Yes. One day I would like the chance of doing something with a trad publisher with all the benefits that they offer, but I'm in no hurry.
Any final words of advice for those looking to self-publish?
Get yourself the best editor you can afford, and get professional reviews. As you start, use the available expertise from manuscript appraisers. You may not like what they have to say, but their comments will help.