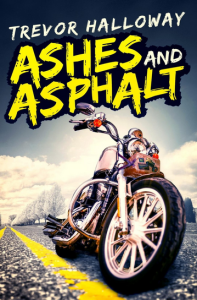 "I'll bet you twenty bucks that you won't mess with that old man by the bar."
The large man looked to where his friend pointed. He noticed a few bikers around him and shook his head. "I'm not messing with bikers, bro."
And so begins the rocking story of the Florida Gearheads – but when the fight gets heavy, old Billy Byrne ends himself up in hospital, his son Mike has to make his way to his side, memories of his childhood alongside his biker dad flooding back to him. But when Billy doesn't make it, and Mike and his brother Kyle have to make nice to deal with the cremation, Billy's pal Charlie has grand ideas for the ashes: This year, Bill is going to Sturgis Motorcycle Rally in South Dakota as planned, and Mike and Kyle are taking the five-day road trip to get his ashes there.
There is a sense that the dialogue isn't hard-hitting enough – there's hardly any swearing or cursing, which seems unreal in the world of hardcore bikers. Sometimes they just feel a little clean-living, and well, nice. The other issue is characterization – there really needs to be more detail to give readers a sense of each individual's personality and voice, because there is a mountain of characters, all introduced very quickly before they leave the page again, more like a movie than a book. The feeling that there is more backstory to each character pervades every time the reader has to juggle a new name into the ensemble. Given it takes a third of the book to set up the premise, I can't help feeling a content edit culling some of the front of the book to make way for more in-depth character story and more intricate biker lore, as well as more solid descriptions of the places they visit on their journey would have benefitted the book's arc and added interest. There's also a need for a proofread, as there are some little issues with punctuation and spacing that need fixing up before publication.
The idea of two brothers that don't really like each other having to take their father's ashes to a bike rally is a fantastic premise with many opportunities to be explored, and Halloway adds some humorous anecdotes to their journey, and how it feels to be on the road, albeit relunctantly. The adventure hots up when they have a run-in on the way to the rally, and this adds some excitement as the brothers get mixed up in a whole heap of hurt they shouldn't have even been near.
Halloway nails the chaotic aspect of the lifestyle without hitting the note too hard, normalizing some of the more ridiculous incidents and bringing out attitudes to create an entertaining environment for the characters to inhabit.
 A feelgood "brothers in arms" road tale, spattered with guns, bar brawls, beer, dirty girls, and bikes with its heart in family values, that will keep motorcycle fans revving up with the action.
Links
Amazon